Organ donation: Leaving instructions in will 'too late'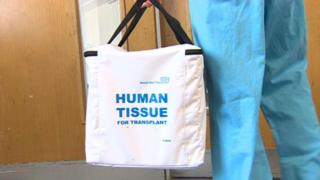 People wanting to donate their organs after they die should talk to their families instead of leaving details in a will, to ensure their wishes are met.
Health secretary Vaughan Gething said by the time a will is read, it was often too late for organs to be donated.
He also warned families can override Wales' deemed consent system if unaware of their relative's desire to donate.
Transplant patient Rhian Smith urged people to talk about their wishes.
In 2015, Wales became the first country in the UK to use an "opt-out" system which presumes consent to organ donation unless otherwise specified.
Only 1% of the people die in a way that means they can donate because organs have to be transplanted very soon after death and can only be donated by someone who has died in a hospital.
Speaking during Dying Matters week, Mr Gething, said: "More often than not, when a will is read, people's organ donation decisions are known too late to help someone in need of a life-changing transplant.
"Ensure your decision to give the gift of life through organ donation is honoured - have the chat with your family and loved ones."
Organ donation nurses will check if a person is on the NHS Organ Donor Register and family members will be consulted.
At that point they can override a donation decision if they do not support presumed consent.
Ms Smith, from Penarth, Vale of Glamorgan, had kidney transplants in 2004 and 2009, after having kidney problems from the age of six.
She received kidneys from her mother and aunt and said while talking about organ donation might not be an easy conversation to have, it was necessary.
"It's not the best conversation to have, death and how you want to be carved up, but it's so important."
Law firm Watkins and Gunn said it had seen a 5% increase in clients expressing organ donation wishes in wills but said it was important people talked about it to avoid issues arising after death.