Warning over poultry farm growth 'explosion' in Wales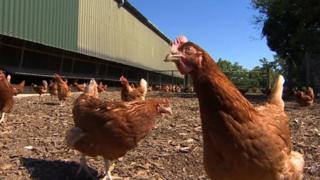 An "explosion" in the number of poultry farms in Wales is threatening the environment, countryside campaigners have warned.
The Campaign for the Protection of Rural Wales (CPRW) has urged ministers to come up with a "long term strategy" for the industry.
The Welsh Government and a spokeswoman for the poultry production sector said it was highly regulated.
But one AM wants ministers to cap the number of intensive poultry units.
In Powys alone, 99 applications for new poultry sheds have been made since 2011, involving three million birds. Just one was refused permission.
The CPRW claims it is having "devastating environmental consequences".
It intends to hand over a petition to the National Assembly next week, which has attracted more than 4,000 signatures.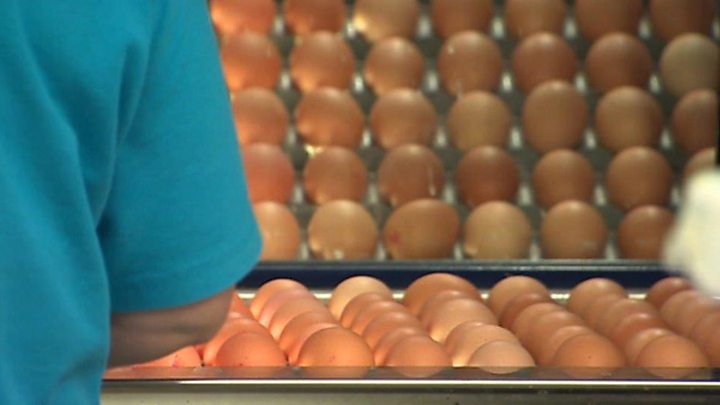 Farming sources suggest the rise in applications for poultry sheds is partly driven by Brexit, with farmers diversifying in case it becomes harder to export lamb and beef.
Eggs are almost exclusively sold within the UK market.
Demand for eggs is also said to be high as people pursue a healthy lifestyle, and banks quick to agree loans for new free-range developments, given that supermarkets have pledged to phase out the use of caged hens by 2025.
But CPRW claims the geography of much of rural Wales coupled with its climate means it is "wholly unsuitable for the current explosion of IPUs".
It claims chicken manure is running into rivers and affecting plant diversity when spread on fields.
Airborne emissions of ammonia from the sheds are also being deposited on soil and plants, it has claimed.
The petition calls on the Welsh Government to fund urgent research and provide up to date advice to the planning departments of councils.
You might be interested in these stories:
British poultry industry
In numbers
£4.6bn annual contribution to economy (GVA)

37,000 workers directly employed

70% amount of trade with the EU

121 number of countries with which meat and breeding stock is exported to
PA
The campaigners also want to see the industry pay more towards the costs of regulation and monitoring.
Dr Christine Hugh-Jones, of the Brecon and Radnorshire branch of CPRW, said applications for poultry units were "coming in thick and fast and they virtually never get refused".
She said: "We would like to see stricter regulation, better planning guidance and that existing legislation is upheld.
"And we'd like to see research into what is happening and that's down to the funding for Natural Resources Wales and other stakeholder bodies."
The charity's campaign has won the support of Conservative AM for Aberconwy, Janet Finch Saunders, who described their concerns as "very valid".
"I think the Welsh Government should be capping the number of such high-level intensified poultry units, those keeping 30,000, some 50,000 or even 100,000 individual poultry - mass-production, over-production - is not the way forward for Wales.
"People are looking for organic, free-range."
Plaid Cymru's environment spokesman Simon Thomas said there were more examples of plans for larger poultry units and they were being dealt with "with a set of tools and policies which are not fit for purpose".
But NFU Cymru's poultry spokeswoman, Victoria Shervington-Jones, argued that egg producers in Wales were regulated to the highest standards.
She keeps 39,500 chickens near St Brides on the Gwent Levels and supplies free-range eggs to Tesco, as well as hotels and businesses.
As the land nearby is designated a Site of Special Scientific Interest (SSSI) they do not spread any chicken manure but sell it on to contractors for use elsewhere.
"Obviously at the moment there is uncertainty for farmers - especially in the sheep sector - and chickens is an obvious choice for them to go into as there is massive demand for eggs," she said.
"But all poultry producers are highly regulated by Natural Resources Wales and environmental permit regulations."
A Welsh Government spokesperson said: "Our vision is for a prosperous, resilient poultry industry promoting Wales' present and future well-being which will only be achieved by ensuring highest standards of health and welfare, minimising the use of antibiotics and reducing the impact on the environment.
"Farms are covered by the same planning regulations as other types of property. Issues such as noise, traffic generation, environmental impact, amenity and health are all carefully considered by the local authority, taking on board expert advice.
"Larger poultry farms are also regulated under the Environmental Permitting Regulations by Natural Resources Wales to make sure they do not affect the environment."