Wales doesn't honour sport legends - boxing trainer Tony Borg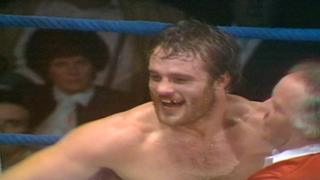 One of Wales' greatest boxing trainers said not enough was done to memorialise the country's sporting legends.
Tony Borg welcomed plans to erect a statue of ex-heavyweight champion David "Bomber" Pearce in Newport in June.
Dubbed the Newport Rocky, Pearce - who died in 2000 aged 41 - beat Swansea's Neville Meade for the British title in September 1983.
Borg, who has trained world champion Lee Selby, said: "We don't realise what talent we have on our doorstep."
The bronze statue was created by France-based sculptor, Laury Dizengremel, and part-funded through the sale of artwork donated by the armed robber Charles Bronson, a Pearce fan.
Pearce's nephew Luke, an officer in the RAF and former Welsh Guard, said erecting this monument had been his "life's work" and he had received support from boxing greats including George Foreman and Lennox Lewis.
Andrew Collingbourne, a trustee of the memorial, said: "Charles Bronson contacted Luke Pearce to explain that he remembered David as a fearless fighter and said he had great respect for the family. As a result of that he wanted to donate some works of art to be auctioned off to go towards the statue."
Newport council supported efforts to raise £36,000 for the memorial and has earmarked an area close to the Friars Walk shopping centre for it.
When it is unveiled, Borg, who has also trained Andrew Selby, Gary Buckland and Olympian Joe Cordina, believes the recognition for the one-time European heavyweight title challenger will be long overdue.
"We don't do enough for sportsmen, definitely not, no. If we went along the lines of all the ones winning British titles, we would have quite a lot of statues around Newport today," he said.
"In Wales you look at the London fighters, if you're in London you look at the American fighters, we don't realise what talent we have on our doorstep."