Breastfeeding support announced by Welsh Government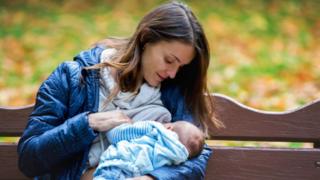 New plans to encourage and support breastfeeding have been unveiled by the Welsh Government.
The seven health boards will appoint an official to ensure best practices are followed and train volunteers.
Health Secretary Vaughan Gething announced the proposals after recommendations were made by an expert group that he set up.
He said breastfeeding could be "beneficial for the health and development of both mother and baby".
Research found about 59% of mothers intended to breast feed, but there were large variations between ages and locations.
The volunteers will give mothers advice, while trainee midwives will take weekly support sessions for women having problems with feeding.
Regional variations in breastfeeding swung from 50% in the Cwm Taf health board area to 84% in Powys.
Of under 16s, 23% intended to breast feed, rising to 57% of 25 to 29-year-olds and 79% of those aged 45 and over.
An action plan will now be drawn up, and every health board will appoint a "strategic infant feeding lead".
Mr Gething said: "I recognise the importance of having knowledgeable support available for women who wish to breastfeed."
Work on implementing the plan is due to begin in July.