NHS could pay for 999 medical help from fire service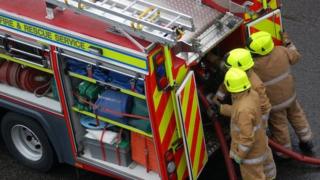 A rise in the number of 999 medical emergencies attended by firefighters has led to plans being considered for the NHS to contribute to the cost.
Figures show last year alone firefighters were sent to 4,200 medical calls - being first on the scene in 1,716 - 41% - of cases.
That is three times more than in 2009-10 as pressure on the ambulance service grows.
The Welsh Government is considering if the NHS should contribute to the cost.
In January a driver injured in a crash in Swansea was taken to hospital by fire engine because no ambulances were available.
The number of 999 medical calls attended by fire services across Wales went up from 1,260 in 2009-10 to 4,174 in 2016-17, according to Welsh Government statistics.
Last year these calls made up 11% of all incidents attended by Welsh fire services - compared to 2.7% in 2009-10.
Fire engines are being sent to medical emergencies instead of ambulances if they are nearer the scene, including some of the most life-threatening calls, such as heart attacks.
They are also being sent to non life-threatening cases, such as fractures, in a bid to free up paramedics for urgent calls.
Meanwhile in north Wales, as well as checking fire alarms, fire officers are often giving "preventative" health advice on preventing trips, alcohol and drug abuse, domestic violence, smoking and poor diet.
Currently fire and rescue services in mid, north and south Wales are funded by contributions from local authorities and the Welsh Government.
But local government and public services minister Alun Davies is looking at changing this, seeing if the NHS should help fund the fire service in the face of its growing use for health support.
He is looking at funding as part of a review of Wales' fire and rescue authorities (FRAS) - who set priorities and budgets for Wales' three fire services - which he said were outdated and unaccountable to the electorate.
But he ruled out handing control of fire services to police and crime commissioners.
In the letter to the heads of the fire authorities, Mr Davies writes: "It may be hard to justify purely local funding when an increasing amount of an FRA's work is done in support of the NHS.
"If you feel the NHS should make a consistent and agreed contribution to that work, I am happy to discuss that with my colleagues".
A letter to Mr Davies, signed by all the chairs of the authorities, said: "We feel very strongly that, if we are to realise our emerging role in respect of supporting the NHS, then it may not be solely the FRAs who must undergo reform.
"If Welsh Government is serious about innovation to meet the severe pressures on the NHS then we will need full commitment across all relevant areas of the NHS, including political leaders.
"We see little evidence of this at the moment."
In north Wales the fire service said the pilot for a scheme which saw firefighters help people who had fallen across Conwy and Denbighshire is due to end this month after a bid for Welsh Government funding failed.
Another trial that saw firefighters work alongside paramedics to respond to 999 calls ended in August 2017 amidst negotiations about firefighters' pay.
A Welsh Government spokesman said: "We have made clear our long-standing commitment to reform the governance and funding of the fire service in Wales.
"At present, fire and rescue authorities are not accountable to the electorate, or national and local government, and this needs to be addressed in order to further enhance local democracy."