Wales Book of the Year 2018 shortlist announced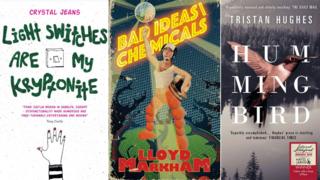 Shortlists have been announced for this year's English and Welsh-language Wales Book of the Year Awards.
Two independent judging panels have selected nine works for each language in categories for poetry, fiction and creative non-fiction.
The shortlists include works by award-winning author Horatio Clare, former national poet Gwyneth Lewis, and Prof M Wynn Thomas, an expert in the literature of modern Wales.
The winners will be announced in June.
The Roland Mathias Poetry Award
All fours by Nia Davies
The Mabinogi by Matthew Francis
Diary of the Last Man by Robert Minhinnick
Fiction Award
Hummingbird by Tristan Hughes
Light Switches Are My Kryptonite by Crystal Jeans
Bad Ideas \ Chemicals by Lloyd Markham
The Creative Non-Fiction Award
Icebreaker by Horatio Clare
David Jones: Engraver, Soldier, Painter, Poet by Thomas Dilworth
All that is Wales: The Collected Essays of M. Wynn Thomas
Welsh-language Poetry Award
Llif Coch Awst by Hywel Griffiths
Treiglo by Gwyneth Lewis
Caeth a Rhydd by Peredur Lynch
Welsh-language Fiction Award
Gwales by Catrin Dafydd
Fabula by Llyr Gwyn Lewis
Hen Bethau Anghofiedig by Mihangel Morgan
Welsh-language Creative Non-Fiction Award
Meddyginiaethau Gwerin Cymru by Anne Elizabeth Williams
Blodau Cymru: Byd y Planhigion by Goronwy Wynne
Ar Drywydd Niclas y Glais by Hefin Wyn
Judges for the English-language prizes are author Cynan Jones, broadcaster, journalist and writer Carolyn Hitt, and poet Kathryn Gray.
The Welsh-language judging panel are broadcaster Beti George, National Eisteddfod 2016 chair winner Aneirin Karadog, and former Wales Book of the Year winner Caryl Lewis.
The competition, run by Literature Wales, includes a people's choice winner in both languages.