Dylan Thomas Prize won by 'distinctive voice' Kayo Chingonyi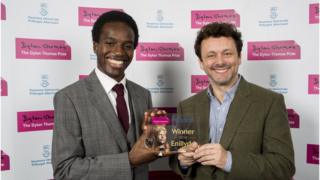 The International Dylan Thomas Prize has been won by a Zambian-born British poet described as having an "original and distinctive voice".
Kayo Chingonyi, 31, scooped the £30,000 prize from a six-person shortlist.
The Swansea University-backed award is the world's biggest literary prize for writers under 39.
Mr Chingonyi's entry was his poetry collection Kumukanda which explored black masculinity and rites of passage for young black men in Britain.
The prize is on offer for the best literary work published in English, including poetry, novels, short stories and drama.
"I'm staggered," said Mr Chingonyi.
"It's wonderful to receive an award in the name of Dylan Thomas, whose work was introduced to me by a really inspirational teacher by the name of Rachel Baroni who introduced me to Under Milk Wood and I've been fascinated by his work since then."
Competition chairman Dai Smith praised the collection as "mature and moving", saying the author had an "original and distinctive voice".
He said the work "shows a young poet mastering form in various ways to reveal content which is both personal and immensely relevant to the social dilemmas of Britain today".
It was the 10th awarding of the prize named after Swansea-born Dylan Thomas, who died 65 years ago, aged 39.