BT worldwide job cuts: What does it mean for Wales?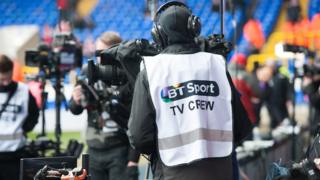 On the face of it, the loss of 13,000 jobs worldwide over three years at BT could be a further blow to the Welsh employment market a week after Virgin announced the closure of its customer service centre in Swansea.
Its 4,000-strong Welsh workforce awaits the detail of how it will affect them.
A third of the total job losses will be overseas, meaning 8,500 managerial and administrative jobs will have to go in the UK.
But BT will also be creating 6,000 positions, largely in the UK, in engineering, customer services and cyber security.
Overall this might actually be good news for Wales - a high proportion of its workforce here already work in these fields, so there could be further expansion.
Cyber security is already a fast-growing sector and BT employs specialists and apprentices in south Wales.
The company also has a large call centre in Swansea and EE - part of the BT Group - in Merthyr Tydfil has been growing over the past two years and now employs more than 1,000 people.
Another of the group's businesses, Openreach, is running its largest-ever recruitment drive with new positions over the next year across Wales, including Cardiff, Carmarthen, Monmouth, Anglesey and Wrexham.
Last week it was quick to suggest Virgin Media employees in Swansea should look at their vacancies.
A spokesman for BT Wales pointed to the company's plans for investment.
"There are no details at this stage of either the reduction in roles, or the new jobs, we have announced today," he said.
"We have been clear, however, that the changes will represent an investment in the jobs and skills needed to strengthen our networks and customer service."
This leaves a mixed picture for Wales - but on reflection it is not as gloomy as it may have appeared at first.