Prison death investigations in Wales 'too slow'
By Jenny Johnson
BBC News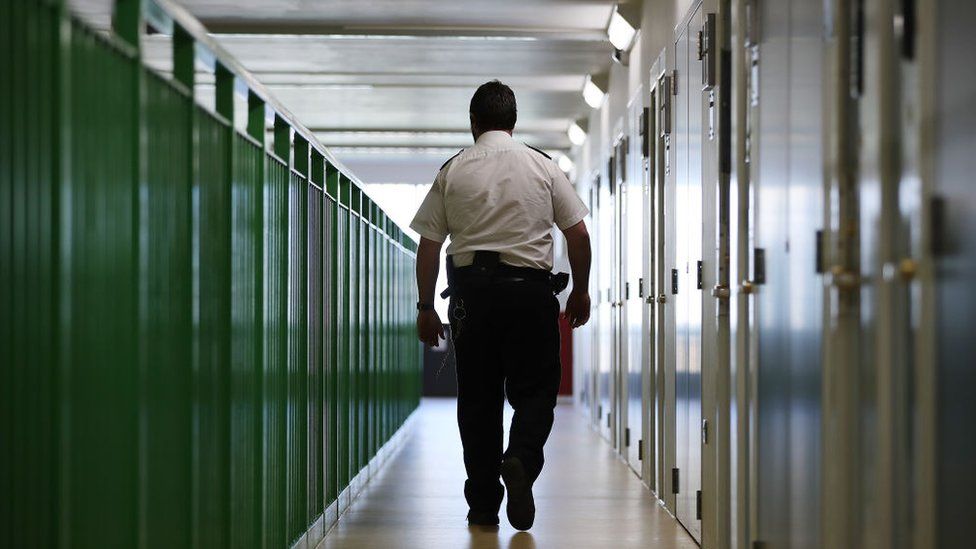 Prison deaths are not being investigated quickly or rigorously enough, it has been claimed.
Campaign group Inquest said a number of cases have raised concerns about health and safety in Welsh prisons.
It also claimed natural cause death inquiries have been hit by funding cuts to the watchdog - the Prisons and Probation Ombudsman (PPO).
But Elizabeth Moody, acting PPO, rejected the allegations and said targets were being met.
It comes as one Welsh MP warned some deaths in prisons could be perceived as amounting to the "death penalty" if they were "tolerated as normal."
Some of the ombudsman reports into deaths have questioned aspects of healthcare for prisoners, and the care on offer for vulnerable and at-risk prisoners.
You might also be interested in:
Issues raised include the deaths of younger prisoners from manageable health conditions.
Concerns about deaths involving Spice or other psychoactive substances have also been raised.
In some cases, bereaved families have had to urge the ombudsman to produce more detailed reports on the circumstances around the loss of their loved ones.
"The inquests that we have been involved in have raised familiar concerns that we see around the country," said Deborah Coles, director of Inquest.
As well as healthcare worries, she flagged issues about "doing proper checks" on at-risk inmates - including monitoring those with self-harm issues and the use of CCTV rather than face-to-face checks.
"I think the high rate of prisoners taking their own lives, particularly those who have mental health issues, is causing us concern, as well as a pattern of so-called natural cause deaths - but where prisoners are dying at an earlier age than one would expect - and are dying from potentially preventable medical conditions, such as diabetes and epilepsy.
"Where that happens, there must be the most rigorous investigation.
"The PPO is charged with the independent investigation of these deaths but they've had their resources significantly cut, so they're only able to do quite cursory investigations."
105 between 2007 and 2017
33 were classified as self-inflicted
In 2016, there were 18 deaths across Cardiff, Swansea, Parc and Usk-Prescoed prisons - the highest number on record
Wales' only privately-run prison - Parc - had one of the highest death rates among inmates of any UK prison in 2016
Nine prisoners died at Parc in 2016, six from natural causes and three self-inflicted. In 2017 there were two deaths and one in January 2018
Six inmates have died at Swansea Prison since 2013, all self-inflicted
In the case of Parc Prison - only four investigations into the 2016 deaths have been concluded, with an inquest being held and a report being published by the PPO.
In Swansea - no investigations have been concluded.
There are outstanding investigations into seven deaths in Cardiff, one at Usk-Prescoed and one at Berwyn, which opened in Wrexham in 2017.
Plaid Cymru MP for Dwyfor Meirionnydd Liz Saville-Roberts said: "We should not as a state be tolerating deaths in these situations, we should be getting quicker reports back if someone needs to be held to account or if changes need to be brought about.
"You will probably be told that the prisoner population is ageing and that will sadly, inevitably, result in more people dying in prison.
"But when we see young men dying of health complications that are relatively common and you would expect to be managed in the community, health conditions and diabetes, I think it's fair that we have proper answers to what happened to these young men."
The MP - one of whose constituents died at Berwyn prison earlier this year - said the increase in the use of Spice and other new psychoactive substances in prisons, coupled with the smoking ban and mental health issues among prisoners, were exacerbating the risks.
She added: "There are families suffering because of this. But more importantly, I'm proud to live in a country where we don't have capital punishment and I don't feel we should be tolerating deaths you can interpret as capital punishment in our prisons either."
The Welsh Affairs Committee at Parliament is holding its own inquiry into prison provision and has been presented evidence by the campaign group Inquest.
Ms Moody said: "We do not accept that there has been any relaxation in the rigour of our investigations into deaths in prisons or places of detention, including natural cause deaths.
"We are proud of our record for timely production of reports."
Initial reports to the coroner, prior to inquest hearings, were being issued to target times of 20 weeks for natural cause deaths and 26 weeks for self-inflicted deaths, she said.
"The time taken for coroners to hear inquests is something over which we have no control," she added.
Responding to the claims, Prison Service officials said: ""We continue to work closely with healthcare services to provide high standards of care in the prison estate. Over 14,000 staff have undertaken new training for suicide and self-harm prevention and we are improving early days support for prisoners.
"We know a lot of the problems on safety in our prisons have been caused by drugs, that is why we have trained more than 300 specialist drug dogs, introduced body scanners and intelligence-led searches, and made it a criminal offence to possess psychoactive substances in prison.
"We have also passed our target to recruit an additional 2,500 prison officers by the end of 2018 - this is crucial to give staff more time to support individual prisoners."
Related Internet Links
The BBC is not responsible for the content of external sites.