Sir Kyffin Williams: Artist 'one of the European greats'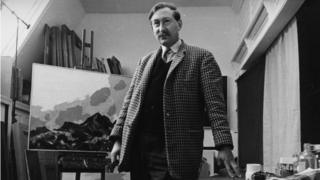 Sir Kyffin Williams deserves to be ranked alongside the great British and European artists of the 20th Century, according to the author of a new work marking the centenary of his birth.
Born in Llangefni, Anglesey, on 9 May 1918, Sir Kyffin became one of the defining Welsh artists of the last 50 years.
He died in 2006, aged 88, leaving no immediate family, and donated much of his work to the National Library of Wales in Aberystwyth where it is on display.
Rian Evans, who has co-authored Kyffin Williams: The Light and the Dark, said the artist's popularity in Wales masked a broader appeal.
"He certainly reached an audience, he was certainly a popular painter. But I would like to think that the centenary is an opportunity to look beyond that and to see Kyffin in a wider context. Not just a British context," she said.
"I would like to think that, as a portrait painter for example, the strength and astonishing beauty and impact of his portraits would also be recognised and that Kyffin would be seen in a much broader context, and seen to be a true European, as well as a true Welshman."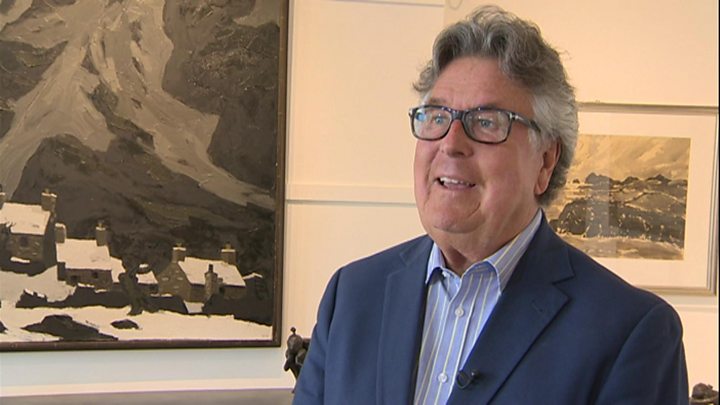 Sir Kyffin remains commercially successful, with current exhibitions at Cardiff's Martin Tinney Gallery and the Albany Gallery selling works for tens of thousands of pounds.
He was a prolific painter, having trained at the Slade school of art before teaching at Highgate School in London.
In the 1970s he returned to live on Anglesey and settled at Pwllfanogl on the banks of the Menai Strait.
Ms Evans said Sir Kyffin was "always really dedicated to his art and perpetually excited and fascinated by the medium of paint".
"I think it is particularly interesting that Kyffin succeeded in reaching the public, achieving a popular appeal which is given to very few people," she said.
"And let's face it there are very few artists who are known by their single names. You get Monets and Renoirs and Kyffins and that is the parlance across the art world."
She said criticism that Sir Kyffin's style failed to develop was unfounded.
"He worked in various different media and I think what is interesting is that there is a consistency with the strength of line and the boldness which he always espoused. But at the same time he uses each medium very, very differently," she added.
"Kyffin had his critics and in a sense he invited criticism, because he really lashed out against contemporary art. He was used for soundbites on television and radio in order to be highly critical. And he was highly critical of Britart, and he felt that conceptual art wasn't true art."
Sir Kyffin died two years before the gallery bearing his name opened in his hometown.
While he had little family at the time of his death, Ms Evans said he was pleased with his popularity.
"For somebody who had been denied the fulfilment and happiness of a family, and perhaps some of the things that he would have hoped to have had in life as an artist and a human being, I think perhaps that recognition in later years and indeed his knighthood was rather a sign of approval which he had never really expected to have."