Swansea hotel defends cancelling Southampton booking after illness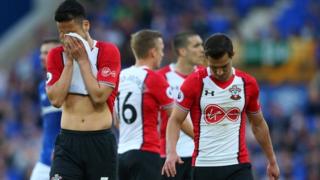 A hotel has defended its decision to cancel Southampton Football Club's rooms before their key Premier League relegation clash at Swansea City.
The Saints were due stay at the Marriott ahead of the game but said the booking was cancelled at the last minute.
The hotel said it cancelled large bookings after some guests became ill.
Public Health Wales said it was investigating a "potential infectious disease incident".
Southampton stayed Monday night at the Vale of Glamorgan hotel near Cardiff.
"We were made aware late last week of a small number of associates and guests becoming ill," said Michael Downie, general manager of the 121-room Marriott on Swansea waterfront.
"As per our normal procedures, we notified large group bookings in order for them to find alternative accommodations, should they choose to do so."
The Marriott say they have contacted environmental health officers but say the "cause of the illness remains unconfirmed."
"There have been no further reports of illness this week and the hotel therefore remains operational," added Mr Downie.
Public Health Wales said it had been "made aware of a potential infectious disease incident at the Marriott Hotel in Swansea"
"We are working with the environmental health department of Swansea Council to investigate and to consider any public health action that is required," a spokesman said.
Southampton Football Club did not want to comment about the story but did confirm to the BBC that it was true.
The Saints played Swansea at the Liberty Stadium on Tuesday night, with both teams battling to avoid relegation with two games of the season remaining.
Southampton won the game 1-0, meaning Swansea are three points from safety and face relegation from the Premier League on the last day of the season on Sunday if the Swans do not beat Stoke.