S4C may lose £3m after collapse of Loteri Cymru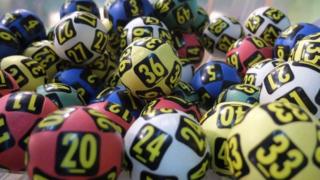 The broadcaster S4C may lose more than £3m following the collapse of Loteri Cymru, BBC Wales understands.
The Welsh lottery game went into administration in March, leaving more than 10,000 customers unable to access money in their online accounts.
BBC Wales understands that S4C's commercial arm, SDML, was the main financial backer and broadcast partner for Loteri Cymru.
S4C said it did not expect the majority of a £2.5m loan to be repaid.
It added it would likely lose a further £600,000 owed to it in broadcasting rights fees.
The broadcaster said it backed Loteri Cymru to attract new viewers and contribute to good causes, but the game had failed to attract enough players to be sustainable.
More than 10,000 customers had deposits ranging from £1 to £1,000 stored in their Loteri Cymru accounts at the time.
Administrators are in the advanced stages of negotiating the transfer of Loteri Cymru customers to an alternative lottery provider.
If this succeeds, it would mean players who have credit in their accounts would be able to use it to continue playing a new lottery game, or potentially withdraw their cash.
But it is not expected to be a sale of the business that would enable S4C to recoup its investment.
What was Loteri Cymru?
Tickets to play the game cost £1 and each draw had a guaranteed jackpot of £25,000, with its first weekly draw broadcast live on S4C on 28 April 2017
It paid out over £350,000 in prize money, and distributed £120,000 to charitable causes in Wales
When it launched, Loteri Cymru said players had a one in nine chance of winning a prize, which it said were better odds than the National Lottery's 'Lotto' game
More than half of Loteri Cymru players won a prize in the first seven draws of the game
At the time of the company's collapse, S4C confirmed in a statement that it had "bought the rights to broadcast Loteri Cymru" but did not mention the extent of its financial interest in the company.
Following questions about its involvement from BBC Wales, the Welsh language broadcaster has now confirmed it "had a contract with Loteri Cymru which combined development funding and rights fees, giving S4C exclusive rights to broadcast the lottery results".
In a statement S4C said its "hope was that the lottery would establish itself as a popular weekly event" but that Loteri Cymru failed to attract enough players to make it a sustainable business.
S4C said it was "a matter of concern" that a substantial number of players had bought tickets in advance at the time the lottery closed.
As a result S4C said its commercial arm would "forgo part of the repayment it could expect out of Loteri Cymru assets" in order to ensure all players are refunded.
SDML uses commercial reserves to make investments that are supposed to return income to S4C. No money from the public service side of S4C's business was used to invest in Loteri Cymru.
S4C said the value created by SDML's other investments over the same period were "greater than the loss resulting from Loteri Cymru".