Faecal bacteria found in coffee shop ice after random checks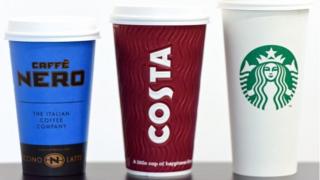 Faecal bacteria has been found on ice in "almost a quarter" of coffee shops which were randomly tested across Wales, it has been revealed.
The Welsh Food Microbiological Forum ordered checks in response to the BBC's Watchdog programme, which tested three of the UK's biggest coffee chains.
Between July and October last year, 164 samples were taken from independents and chains in all parts of Wales.
As a result of the findings, more checks are to be carried out.
The original testing was prompted after the Watchdog investigation found some samples from drinks at 30 branches of Starbucks, Costa and Caffe Nero around the UK contained faecal coliform bacteria.
Like the first round of testing, the Welsh Food Microbiological Forum (WFMF) said individual councils would carry out the new tests.
Forum chairman Paul Ellis said the businesses which failed tests have been visited by food safety officers and issues have been addressed.
The forum has not released the exact number of places where bacteria, known as faecal coliforms, was found or which areas they were in.
"Issues identified as contributing to poor results were mainly related to inadequate cleaning and maintenance procedures of the ice machine, poor personal hygiene practices and inadequate storage of ice scoops," he said.
"Poor quality results did not appear to be related to poor food hygiene ratings of the premises, which highlights the importance of sampling surveys to identify hidden food safety risks.
"Although unsatisfactory results have been addressed, the WFMF recommends that a further study be undertaken to ensure that hygiene improvements are being sustained."
The BBC's Watchdog programme has also since tested takeaway restaurants including McDonald's, Burger King and KFC, but they will not be included in the forum's checks.