Rock fall warning for Welsh beachgoers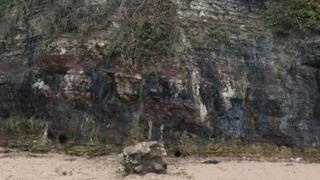 Beachgoers have been warned to keep a safe distance from cliffs following recent rock falls.
The RNLI, coastguard and council officials say people take "unnecessary risks" by going close to the cliff edge or cooling off in cliff shadows.
Beaches in the Vale of Glamorgan are a particular hotspot for rock falls and a giant boulder recently fell on to the sand at Jackson's Bay, near Barry.
In 2015, a woman was killed by falling rocks at Llantwit Major beach.
The warning comes as people flock to Welsh beaches to enjoy soaring bank holiday temperatures.
'Impossible to predict'
Alun Newsome, a controller with HM Coastguard, said beachgoers should remain a safe distance from the cliffs.
"If the cliff is 25 metres high, don't go closer than 25 metres towards it. Cliffs are continually eroding, with pieces falling from them that can be just a few small rocks or as large as a car.
"It's impossible to predict when the next piece might fall or how big it will be. Periods of intense rainfall will often make cliff edges more vulnerable."
Coastguards say it is difficult to say how many rock falls there are annually as "many go unreported".
Vale of Glamorgan council has implemented further safety measures since the boulder fell at Jackson's Bay.
Engineering manager Mike Clogg said: "There are signs at various points along the Wales Coast Path warning people of the dangers.
"A new sign is being prepared for The Knapp car park following an incident last year, while fencing has been erected for walkers' protection.
"The council has also recently carried out a combing exercise to remove loose rock overhangs from Jackson's Bay."