Brexit hope for Welsh plant growing businesses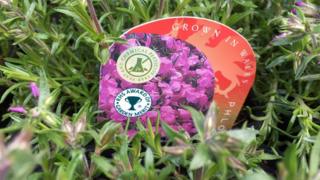 Welsh plant growers, traders and business owners have said Brexit could be an opportunity for them.
Mark Cleary, who runs a garden centre near Brecon, Powys, said leaving the EU could be "the start of British growers getting their act together".
He said people know about food miles - but gardeners now want the same from their plants.
He believes as well as being a business opportunity, sourcing locally helps with bio-security.
"Obviously there are some plants that we have to import from Belgium and Holland, but they're getting less and less now because UK growers are really stepping up their game," Mr Cleary told the BBC Radio Wales programme Country Focus.
"All our bedding plants are grown by a local person."
Mr Cleary and his wife, Christina, have run The Old Railway Line garden centre at Three Cocks near Brecon since 1990.
It started as a part-time venture for the couple but is now a full-time business and the majority of their plants come from UK growers.
Mr Cleary said the origin of a plant was important to them.
He added: "People know about food miles, so they expect the same thing from their plants. They don't want their plants traipsing all over the country."
About four years ago, they decided to find local growers to supply their garden centre and Mr Cleary said Brexit will help the home-grown industry.
"This is the start of British growers getting their act together," he said.
"Saying 'yes', we've got an opportunity to grow our business because the UK garden centre trade will find it harder to trade with Europe."
Charles Warner owns Quinky Young Plants in Cilgerran, Pembrokeshire and supplies plants to the Cleary's garden centre.
He said it was initially difficult to market locally grown plants, but he persevered.
"I could see that most of the plants were imported either from other parts of the UK or from the continent," he said. "I felt I could do a better job than most of what I saw out there."
Mr Warner also said it was difficult to break into an established supply chain with foreign agents, but buyers are more concerned with plant provenance, as they have become about the origin of food.
"It's coming," he added. "There's a lot of publicity about, for instance, the exotic diseases that are possibly coming in from foreign nurseries.
"That's the sort of publicity that is making it much easier to sell a British product. The trouble is we've had an industry that's relied so much on importing for a long time."