Epic paddle around Wales reaches record-breaking end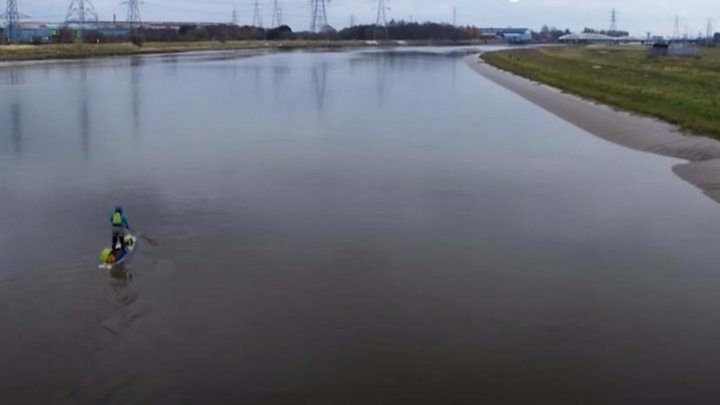 After 60 days at sea, on rivers and canals - an adventurer has become the first person to paddleboard around Wales.
Sian Sykes from Anglesey set off on her epic journey at the beginning of March.
It was part of her campaign to highlight the impact of plastic polluting our waterways and oceans.
Reaching Flintshire on Friday, the paddler said she felt "incredible" - even if it had been more than two months since setting off.
"When I set off there were a lot of unknowns, about where I would end-up, who I'd meet - but the people have been so kind," she said, as she finally stepped onto dry land at Connah's Quay in Deeside - her starting point back on 6 March.
The campaigner had to camp wild during large parts of the journey, living on a vegan diet of quinoa and vegetables, carried with all her belongings on the stand-up paddleboard.
It meant she had to rely on the message about her journey getting out - so people could help her out along the way.
"The generosity along the way has just been fantastic," she said.
Other single-use plastic stories you might be interested in:
She also insisted on making her journey single-use plastic free - which was a challenge in itself.
"A lot of people feel inspired about what I'm doing, and they are all making a pledge to give up single-use plastic - which was my mission on this trip.
"If I can do it for two months, there are no excuses for other people."
Since she set-off in March, the issue of single-use plastic has become a focus for politicians, with UK Environment minister Michael Gove announcing a deposit-return scheme for plastic bottles in England, while ministers in the Welsh Government said they want a UK-wide scheme implemented.
"We need to make a change - and that's why I'm really pushing for the deposit-return scheme in Wales," she argued.
"I really think that's what we need."