Student numbers drop in Welsh universities during marketplace challenge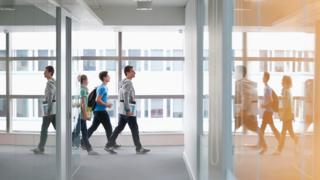 Five out of Wales' eight universities have seen a drop in student enrolments of up to a quarter over the last three years.
Since 2013-14 student numbers at Glyndwr in Wrexham and Aberystwyth universities have fallen by 24%.
A senior figure said Welsh universities were in "a very competitive market" where removing a cap on student numbers in England had a knock-on effect.
Nevertheless, enrolments at Swansea jumped by 29%.
Dr David Blaney, chief executive of the Higher Education Funding Council for Wales, admitted there was a degree of volatility around the UK universities sector.
"Universities in Wales are part of a market, predominantly with England but actually UK and internationally and it's a very competitive market," he said.
"So what we have seen particularly in England is removal of constraints on student numbers which means that some institutions in England - the stronger ones in the market in particular - have grown and that's had a knock-on impact across the whole of the system."
He said students were discerning and looking to make careful choices, taking note of the experiences of those already studying.
Dr Blaney said universities had to look beyond the prospectus and advertising.
"If the message coming through social media from existing students is not strong then none of that will have an impact so you really have to look after the interests of the students that you've got," he added.
Swansea University had 19,160 student enrolments in 2016-17 and they are aiming to get to 20,000 by their centenary in 2020.
Pro Vice-Chancellor Prof Iwan Davies said student experience was "critical" and with students paying thousands in course fees employability, he said was also a key factor.
"It's great they're here in Swansea, we are in the top 15 in terms of employability in the league tables," he said.
"I'm very proud of the relevance of what we offer and the students of course are discerning and they've seen that."
Wrexham Glyndwr University saw student numbers fall from a peak of 9,535 in 2011-12 to 6,415 in 2016-17.
A spokesman said there was a "strategic change of direction" during the period with a move away from international recruitment.
International students made up 28% of enrolments in 2013-14 but by 2016-17 the figure was under 9%.
"During this same period, Welsh student enrolment actually increased from 42% to 62% which highlights success in our strategic change," he added.
Aberystwyth University said its recruitment patterns had been affected by changes to how much universities could charge.
"The introduction of high tuition fees in 2012 marked a sea-change for the sector and saw a record intake at Aberystwyth University in 2011 - a large cohort which carried through to 2013-14," a spokesman said.
Dr Blaney said there were still concerns about underfunding and a disparity in what goes into the Welsh system compared to England, with more resources towards supporting students rather than supporting for institutions.
Changes to student finance in Wales, which will be introduced from this autumn, mean the tuition fee grant of £5,100 will be scrapped and replaced with a maintenance grant of just over £8,000 for students from the most disadvantaged families.
'Work harder'
Dr Blaney said the changes following a review by Prof Ian Diamond would rebalance the position "substantially" and he believes Wales will catch up with England in terms of investment although it may take several years.
"At the moment the Welsh sector is arguably slightly less well resourced than the English sector," he said.
"So that means that they have to work harder to look attractive which they are doing."
Prof Davies said Swansea had been fortunate in terms of European funding in recent years and he said the Diamond reforms would "go a long way" to addressing concerns about the Welsh system being underfunded.
But he warned: "Welsh universities should not be disadvantaged in terms of our competitiveness with our friends in England."