Freshwater species dying 'twice as fast', study finds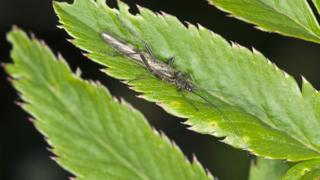 Freshwater invertebrates are becoming extinct twice as fast as any other ecosystem, a study from Cardiff University has found.
Data collected from 14 streams at the Llyn Brianne Observatory in Ceredigion since 1981 found the numbers of specialist organisms are declining.
Predatory flatworms, stoneflies and caddis larvae are in danger and vulnerable to changes in climate.
They also struggle to recolonise previously occupied habitats.
Prof Steve Ormerod, from Cardiff University School of Biosciences, said: "Freshwater ecologists are seriously concerned at the plight of the world's rivers, lakes and wetlands, and at the rate at which they're losing plants and animals of many types.
"We've already lost one species like this across large areas of Wales, the flatworm Crenobiaalpine, whose specialism is predation in cool-water streams."
The 37-year study of the River Twyi was undertaken by Cardiff University, the University of Trento and Martin Luther University in Germany.