Tawel Fan: Mum 'slept in ant-infested hospital bed'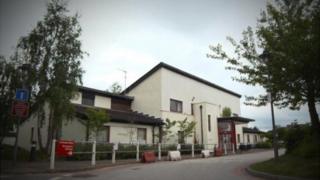 The son of a former patient at a scandal-hit dementia ward has told of the "abuse" he believes his mother suffered.
Robin Formstone's mother Ada was 88 when she was a patient on Tawel Fan ward at Glan Clwyd Hospital in Denbighshire in 2013.
Her son claims she was bullied and forced to sleep in an ant-infested bed.
A report published on Thursday found no institutional abuse at the ward but accepted there had been failings.
Betsi Cadwaladr health board has accepted the latest findings on the ward, which was closed in December 2013.
The latest investigation, carried out by the Health and Social Care Advisory Service (Hascas), angered relatives of former patients.
The report author Dr Androulla Johnstone said family accounts of their relatives' treatment on the ward had "differed greatly".
"For example, some families stated that in their view Tawel Fan ward was an abusive environment where their loved ones were mistreated, neglected and came to harm," she said.
"Other families offered the view that the care and treatment their loved ones received was of a very good standard with staff showing kindness and compassion throughout their relative's entire episode of care."
But Mr Formstone, from Colwyn Bay, Conwy county, "quite clearly" considers what his mother experienced as abuse.
"One day my mother was complaining that something was biting her," the 56-year old said.
"After I took the sheets off her bed I found that the whole bed was infested with ants.
"They said there was no other room to put my mother in and she ended up sleeping in an ant-infested bed for the last three weeks she was in there."
His mother, who died when she was 93, told him she was being bullied by one of the nurses, but Mr Formstone said staff didn't take his complaints seriously.
Mrs Formstone had severe incontinence, but was not cared for with dignity, he added.
"There was more than one occasion where she'd be in the same clothes at least two days lying in her own mess."
The new report amounted to "a huge cover-up", he said.
"All we wanted was the truth of the way our families were treated and it's quite appalling...they just don't want to use the word abuse."
Responding to the report's findings, Betsi Cadwaladr University Health Board said it was clear "we have much more to do to make improvements across all of our adult services - not just mental health services".
Chairman Dr Peter Higson and chief executive Gary Doherty said: "We fully acknowledge that this has been and will continue to be a very difficult process for all the families and staff involved.
"We accept the report's findings and are establishing a taskforce led by the executive director of nursing and midwifery to build on our existing work programmes to take forward the recommendations, alongside our partners, at pace."
The health board said several members of staff "have had some sort of employment restriction placed on them over a period of time. This ranges from suspension, alternative duties and restriction to practice".
"The HASCAS individual staff specific reports will be used as investigative reports for employment and professional regulation purposes. On receipt of these reports, the Health Board and/or appropriate professional body will take the necessary appropriate action. "