Analysis: Tawel Fan shows a health board in turmoil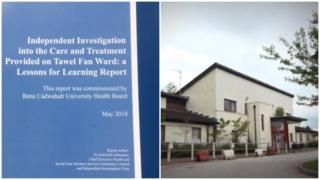 The Tawel Fan report is set against the backdrop of a health board in turmoil.
The probe into claims of wide-spread abuse at the former Tawel Fan dementia ward at Glan Clwyd Hospital in Denbighshire covers more than 350 pages.
The 12-strong investigation panel, led by Dr Androulla Johnstone, step in at a point which is already turbulent - with staff still suspended and families' emotions running high, with their trust in the health authorities low.
The findings - from half a million documents examined - show in detail the experience of one ward but also have lessons for the whole of the north Wales health region.
It shows that staff struggled to cope in extremely difficult circumstances, as more patients arrived at the ward with more complex conditions and as local care homes closed.
This was set against recruitment and financial problems across the whole health board. The report says the "level of chaos and disruption cannot be underestimated".
It resulted in staff constantly "fire-fighting" and sometimes misery for patients and families as they negotiated the mental health care system in the area.
It says there was:
Chaotic and poor governance and problems across all mental health services in north Wales.
Huge pressure on the 17-bed acute elderly psychiatric ward - the report says that what escalated on Tawel Fan in three years to its closure in December 2013 was "unusual and all pervading".
70% of families described care pathways for their relatives as chaotic - leading to extreme distress.
However, it says there is no evidence that any wilful abuse and neglect took place at Tawel Fan despite an "extensive and thorough examination".
Care and treatment was of a "good overall standard" and many families praised it. Although some experiences were compromised due to wider systemic failures and financial restrictions.
Let us look at some of the main findings in more detail: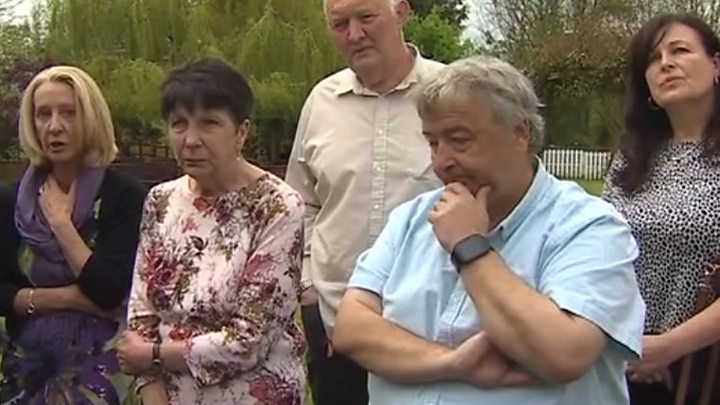 THE FAMILIES
The original investigation involved specific concerns raised by 23 families, but this latest inquiry widened the scope to 108 families, going right back to January 2007 right up until Tawel Fan closed in December 2013.
Around a third of these patients were still living when the inquiry began - but only one was able to take part and decided not to. A total of 65 families met with the inquiry, another 24 did not want to be interviewed; 48 could not be contacted or did not want to take part. Altogether, 35 families were interviewed as formal witnesses - and 18 made allegations about potential abuse, mistreatment and neglect.
The first difference with this report is how family accounts "differ greatly".
Some claimed it was an abusive environment where their loved ones were "mistreated, neglected and came to harm."
Others said the care and treatment their loved ones received was of a very good standard with staff showing "kindness and compassion throughout their relative's entire episode of care."
Many individuals came forward because they were "angry, confused or shocked" in the wake of the publication of the earlier Donna Ockenden report in 2015 and their contact with police, the investigation states.
"They often recast prior events on the ward (that had not worried them previously) in the light of the reported abuse and felt worried that they might have 'missed something' and failed their loved ones in some way."
The report found a level of inconsistency which was "difficult to understand" in the family experiences.
Allegations made by the 18 families included:
Unexplained bruising and injuries; rough handling; shouting and disrespectful behaviour by nurses; patients being dirty or unkempt, ignored and neglected and disproportionate restraint.
In "stark contrast" 31 families made it quite clear that neither they nor their loved ones had ever experienced anything of this kind on Tawel Fan ward.
Statements included that:
Staff were always kind, compassionate and thoughtful; their loved ones were always treated in a person-centred manner, were clean, treated gently and respectfully at all times "but especially when they became aggressive and violent". Staff were also always ready to support families and provide clear explanations about care and treatment;
The investigation went beyond just the time on the ward to the experiences of these mostly elderly patients right along the care "pathway" from admission to discharge. This issue had been raised by families themselves - and 70% found the process "chaotic" leading to extreme distress.
Concerns were also expressed about diagnosis, lack of therapy and communication by ward staff.
Families described being "up against the system" and understandably thought the ward staff were accountable for all aspects of care and treatment deficits. But the situation was "far more complex" with no one individual or service able to make the changes needed in a system "in increasing turmoil".
Some families angry over report conclusions
Dying woman's family saw 'chaos'
THE PATIENT EXPERIENCE
The investigation found around 12% of patients were not diagnosed to the right standard. It found a gap between the needs of the family and patient - and the ability of the service to provide what was needed. But this situation is also apparent across most of Wales and is one of the Welsh Government's key dementia strategy targets. Suggested improvements include better counselling and coordination of patients and families.
The report also looks at the strength of feeling over prescribing of medication but believes the majority of families had no pre-existing doubts until the media reported the Tawel Fan "scandal" or they were contacted by police. The investigation concludes this caused a "significant level of anxiety" and heightened a loss of confidence. It found no evidence of over-sedation.
You might be interested in these stories:
Q&A: What is the background to Tawel Fan?
Improvements demanded from health board
Patients were taken to the toilet on regular occasions and there was nothing to suggest they were routinely placed in incontinence pads, while very few developed pressure sores. It found "limited evidence" to suggest staff were disrespectful to patients and no evidence to suggest patients were neglected or their care was significantly compromised.
There was also "no solid evidence" to support the claim patients were ever locked in their rooms or chairs were routinely used as restraints.
The investigation panel said it did not want to diminish the concern and distress of families but there was a key underlying issue of a "mismatch" between some families' expectations when set against the realities of a dementia diagnosis and methods to manage it.
But it said "open and honest" conversations with families who raised concerns should have been encouraged.
It said staff were diligent in recording incidents which led to bruising or injury and next of kin were informed in the overwhelming majority of cases.
There was no evidence to suggest patients were neglected in any way or not cared for properly.
Investigating claims of physical abuse, some issues were based on a series of misunderstandings and others from "misconceptions and falsehoods".
Some of the abuse, it was claimed, had been perpetrated by the same family members who had raised the allegations, which made for a "very difficult and challenging set of circumstances" for the investigators.
THE STAFF
The inquiry identified 186 staff it wanted to speak to - 82 were formally interviewed and 101 gave detailed statements; three refused. Most staff and former employees cooperated with the inquiry - and many were asked to review records of patients they had looked after, which could be as many as 30,000 pages of documents.
But there is scathing criticism in how they were dealt with by the original inquiries.
A small number of staff remain suspended but many still had little knowledge of the precisely what they had been accused of, leading to "a high degree of misunderstanding and distress." Some staff were targeted in their communities.
There is criticism in how the first inquiry was conducted in terms of handling witnesses, their interviews and their access to the evidence against them.
"This created a legacy of anxiety and confusion for witnesses in general and for those who faced direct allegations in particular," says the report.
It said given the methodology of the previous investigations it would be "unsafe and unfair" to accept the factual findings and conclusions and that is why all matters needed a fresh investigation.
The review says while understanding how emotions can run high, it is "regrettable that individuals have been so indiscriminately pursued and judged in such an unboundaried fashion. It is also regrettable that the calls for punishment and retribution have been so voracious before all due process has been followed and the evidence-base established."
In a complete contrast to the Ockenden report, we also now see claims that families abused staff.
The investigation claims that the behaviour of some family members to staff over the years was "totally unacceptable" - and had led to the police being called on occasions and staff were left in a vulnerable position by autumn 2013 "with little being done" to support them.
Incidents included the use of foul and racist language, walls being punched and kicked, screaming and shouting, inebriated family members coming onto the ward in an "aggressive and incapacitated state" and disrespectful behaviour such as wheelchair races in the corridor.
The report said there was no evidence to suggest abusive practice by Tawel Fan staff, either by not caring or acting wilfully. It said some of the allegations were put forward "driven by anxiety and fear" and a need for reassurance.
ESCALATING PRESSURES ON STAFF AT TAWEL FAN
Tawel Fan's pressures in the three years before it closed were "unusual and all pervading" but mostly out of the direct control of the ward staff and those who managed them directly.
The report found:
The ward faced recruitment issues - especially out-of-hours cover and staff nearing retirement age - and it relied on agency staff or staff doing extra shifts to keep safe staffing levels, which became an ever increasing challenge.
Admission rates to the ward had also increased at the end of 2012, after the loss of 32 care home beds in the local area. There were also pressures on psychiatric beds elsewhere.
Care homes were also becoming reluctant to take on complex and challenging patients, who were instead going to wards like Tawel Fan. This applied to 33 of the patients who were part of the investigation.
Staff were unable to go on any but the most essential of training courses and none attended Mental Capacity Act training.
In the 18 months before Tawel Fan was closed in 2013, seven inspections and reviews found good practice relating to care by staff and cleanliness, but concerns over staffing pressures, fixtures and fittings, toilet facilities and lack of activities on the ward.
But the investigation said improvements were being made and there is an "inherent paradox" that it closed at a time when it was assessed to be delivering good standards of care and had been refurbished.
The type of patients arriving at Tawel Fan would also add to the challenge.
Dying patients needing end of life care were placed on the ward. The report says an acute psychiatric unit "can never be regarded as an ideal place". This applied to nine of the cases which were looked at.
Some men in their 50s and 60s with aggressive and violent behaviour were admitted in the ward's last 18 months and this altered Tawel Fan's dynamic further. Problems escalated and often impacted on the care of the more elderly patients.
Physiotherapy and occupational therapist posts were removed and only offered as specific problems cropped up. Activities offered to patients were also reduced - and even the "petting dog" was too nervous to come because of the noise and disruption.
Issues with facilities included a "problematic" ward layout and no separate sex toilets, bathrooms or day rooms. There was a risk to vulnerable individuals from assault and loss of privacy due to "high levels of dis-inhibition shown by many patients on the ward". The corridors were not wide enough for seating and the investigation had "not seen a ward layout of this kind" used in any similar service.
Complex patients could create a "chaotic atmosphere," which could compromise the quality of experience of the ward - especially in terms of therapy.
WIDER CARE ISSUES
The investigation was widened to look beyond just this one ward. It wanted to find out the experience of elderly patients from the moment they were diagnosed by doctors or community teams.
Indeed, the poor management of elderly people's "care pathways" across north Wales is a key finding.
Patients faced multiple ward moves - sometimes five in a short space of time and increasingly outside their local area. There were "chaotic" admission procedures, including via A&E units.
"The level of chaos and disruption cannot be underestimated" - causing difficulties for staff at Tawel Fan who were constantly "fire fighting" and "disruption and outright misery" for patients and their families," says the report.
Financial restrictions limited the ability to improve facilities and service developments - but scaling down hospital beds to expand community services created pressures, made worse by staff shortages.
Most Tawel Fan patients as a result experienced distress and loss of dignity, infections and compromised care and treatment - during their time in that care pathway.
'CHAOTIC' MANAGEMENT
Problems are traced back right to the creation of Betsi Cadwaladr health board back in 2009 - a single body which merged other trusts and organisations and worked across six local council areas.
The investigation said it had not come across a merger like it anywhere else in the NHS, so it was "no surprise" to hear about the "tribalism" and interplay of different cultures which persisted.
The report said Tawel Fan continued to deliver care and treatment, set against a background of "disquiet and organisational disruption" in the health board.
Management themselves had "great misgivings" about how the health board was structured and the ability to bring about change.
Many management witnesses "remain uncertain as to how the system actually worked or how effective it really was." Lines of accountability and levels of autonomy were "impossible to track with accuracy". Senior managers in mental health were uncertain about roles and responsibilities.
Clinical policy development was "seriously flawed" and information available on the health board intranet - with many missing or out of date.
In practical terms on the ward, it might mean up to 35 staff on Tawel Fan had access to only two computers. Letter heads from the ward had the name of the old NHS trust abolished four years before; access to administrators and secretaries was "limited and unpredictable" leading to sometimes months in delays in paperwork.
Senior nurse leaders were "disrespected and ignored" within the organisation so the panel said it was "easy to understand" how powerless Tawel Fan staff felt when trying to improve conditions.
There was a "complete rift between board and ward" in how systems to deal with patient safety and quality improvement worked.
Safeguarding processes could also be ineffective, were under resourced and "an end in itself," with responses to issues raised by ward staff inadequate. Senior managers struggled to explain how they worked.
All of this combined to create "the potential for ineffective and unsafe" service delivery at Tawel Fan.
There is also criticism for how senior health board officials prematurely shared the draft and invalidated findings of a mortality review - looking at the deaths of 23 patients and whether they were preventable. This involved muddled communication and caused "undue distress" with leaks to the media providing misleading information.
The investigation makes 15 recommendations to improve care for the elderly and their families in the future.
It expects the health board to turn the recommendations into "an improved reality for the population".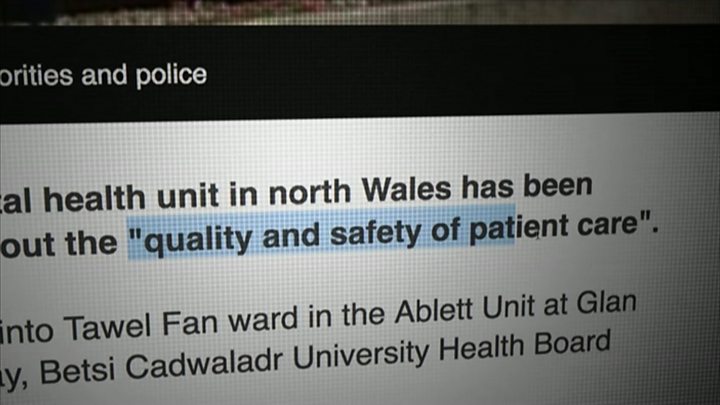 Why are this report's conclusions so different from the previous inquiries?
The clear contradiction of the conclusions of the first Ockenden inquiry has already provoked a strong response from some families.
The investigation criticises what it calls "incorrect" or "misleading" information given to earlier inquiries.
Evidence gathered in previous reviews was "anecdotal in nature" and obtained in circumstances which make them "inherently unsafe," it says.
The experiences of most families "no matter how accurate or sincere" fell short on most occasions of identifying potential abuse or neglect. Issues were often speculative and unspecific in terms of time and place.
It deals with the "Tawel Fan families group", made up of around 10 of the families or 9% of those under review. The review is critical that support from the health board was offered to this group during the process - but not to the wider families.
Those incidents witnessed were often reported and investigated "out of context". Most were recorded in detail by staff and if accessed by prior investigations a "three dimensional picture" would have emerged.
It says the "determination of a small but voracious cadre of families" and health board staff to establish that "wilful abuse and neglect took place on Tawel Fan...at the hands of cruel, uncaring and unprofessional staff" must be resisted.
Although it says it cannot be sure abuse never took place it is clear that there is no evidence to back up such claims.
"It is essential that this conclusion is made in the clearest and most unambiguous of terms to restore public confidence and to ensure natural justice is served".
If you are a former member of staff or a family and would like to contact us, email news.focus.team@bbc.co.uk