From Ebbw Vale to the world: Biker's six decades on the road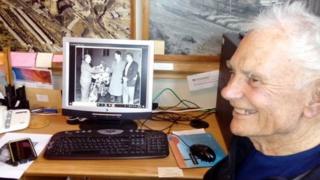 After spending six decades travelling the world on his motorbike a former steelworker has returned to Ebbw Vale where his passion for riding began.
Graham Evans, 89, revived Ebbw Vale Steelworks' motorcycle club in 1955.
But it was not long before he left his job to travel the globe and has since clocked up nearly half a million miles over five continents on six vehicles.
He has visited the town's steelworks museum to see newspaper articles of him on his bike dating back to the 1950s.
And Mr Evans, who now lives in Santa Cruz, California, is not saddle-weary yet: "It'll only stop when they put me in the grave," he said.
Born in Beaufort, near Ebbw Vale, Blaenau Gwent, in 1928, Mr Evans left school at 13 to work at an opencast mine, known as McAlpines, before being called up to the Royal Air Force.
He later went to Ebbw Vale's technical college before working as an electrician at the Trostre, Margam and finally Ebbw Vale steelworks.
Organising motorbike races and scramble events on the slag heaps around the Ebbw Vale works proved good fun but it was not long before he got the taste for travel.
On 22 September 1955 he left Wales to drive through central Europe, Greece and Turkey into Africa. His friend and fellow motorbike enthusiast Clive Malkin from London was driving to a new job in South Africa so he thought he would join him.
"Not knowing what was ahead of us - not knowing how bad the deserts were going to be, not knowing if we'd have enough water…in the northern part of Ethiopia there were roads built by the Italians, but in the south it was mud and jungle conditions.
"When we got in trouble there was not a body to be seen anywhere, but within five or ten minutes of revving trying to chase through the mud these eyes started coming out of the jungle.
"They saw the rope on the front of the bike and with a bit of sign language they helped us out of the mud."
It was at the end of his first African journey in 1956 when met his future wife, Doreen.
"I was staying in a sailor's home while trying to get a ship from Cape Town to Australia for the Olympics in 1958.
"During one of these days that I was hanging out there, there was a dance - a thing call 'the snow ball' and apparently when the music stopped you were supposed to change partners.
"After the second time the music stopped and we didn't change partners someone came over…but we said 'forget it' and we danced the night away."
Doreen, who lived miles outside Cape Town, was on holiday, was on holiday. When she returned home but days later sent Mr Evans a telegram to invite him to her hometown.
But he was torn: "I had a chance to catch a boat to Australia to see the 1956 Olympics, so I was all at sixes and sevens.
"The owner of the hostel I was in said 'there'll be other ships, but there won't be another Doreen', so I went to her home town.
"From then on we danced for the rest of our lives."
Seven months later, with Doreen riding pillion, they spent a year in Australia and New Zealand.
"Some of the electricians I worked with didn't like me at all, they thought I was going to steal their jobs.
"But when I produced my union card, which came from the Ebbw Vale TUC, that shut them up altogether," Mr Evans explained.
The couple then boarded a boat to Sri Lanka, biking overland across India and up to the Iranian capital, Tehran.
They finally returned to Ebbw Vale in 1960 where Doreen got to meet Graham's family for the first time. The bike had clocked up 106,000 miles.
But it was not long before another adventure loomed - this time in a Mini.
"That lasted us through North America, then down through central and South America and back to Europe - another 100,000 miles…one day I repaired 12 punctures to keep us on the road," he said.
By 1965 they had settled in California and spent four years fostering several children.
But their travelling continued, often in a Triumph Vitesse car which Graham still owns to this day.
They would later buy VW and Toyota camper vans to tour the USA and Europe, notching up a further 100,000 and 62,000 miles respectively.
Doreen died in 2015 but he continued to travel, and still has an RV (Recreational Vehicle) at his home with another 50,000 miles on the clock, partly from visiting Alaska several times.
His next plan is to visit the Far East, including the famous cherry tree blossom in Japan.
And he would encourage others to follow in his footsteps and hit the road: "There have been bad times and good times, but generally you look at it the next day and think 'that was fun'.
"My background taught me everything is possible as long as you believe it's so - all things are possible for those who believe."