South Wales Police breeds dogs again after 20 years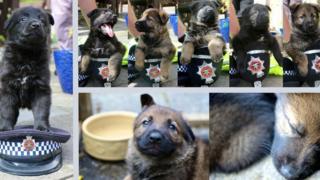 They may look adorable, but South Wales Police's newest canine cops could soon be enforcing the long arm of the paw.
German shepherds Axel, Arla, Astra, Apollo and Ariel are the first puppies to be bred by the force for more than 20 years.
And with the dog section's work load increasing all the time, the team has also welcomed Belgian Malinois pups Blod and Beti.
But what does it take to make the grade?
The Bridgend-based team, which already has 64 working dogs led by 30 police constables and three sergeants, decided to reintroduce its puppy breeding programme because the commercial dog breeding industry meant suitable dogs were getting more difficult and expensive to come by.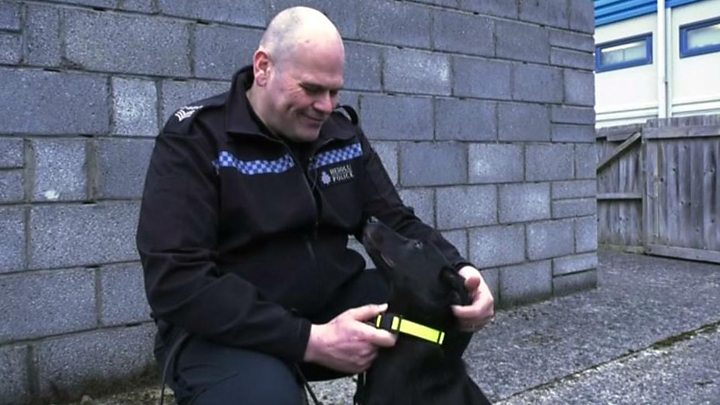 While most breeds of dogs can be trained, lead dog trainer Sgt Ian Roderick said they mainly use those specifically bred to work.
Gun dogs such as retrievers and spaniels are traditionally used as specialist detection dogs, while German shepherds and Belgian malinois are used as general purpose dogs which track and detain suspects.
Sgt Roderick said: "It depends on what that dog is going to do. If it's a search dog, we look for one that has the drive to go out to hunt.
"We use specific breeds for that, springer spaniels, cocker spaniels and labradors, which are predominantly gun dog breeds and these dogs have evolved through selective breeding for decades.
"What we want them to do for police work is what they do naturally with their instincts."
He added: "It's all reward based, when they do find what we want them to find - it's bags of play and praise and happiness and a favourite toy.
"It's all about making it fun for them and building a bond because if a dog hasn't got a bond with you, it's not going to want to work for you."
The use of police dogs to crack complex crime is largely due to the force's "pioneering" in their battle to stop Welsh extremists in the late 1960s.
The then-Glamorgan Constabulary was the first force to train explosive search dogs in their fight against the Free Wales Army group in 1969.
The results led the way for the hundreds of explosive dogs that now work across the UK and in recent years, their work has expended to train dogs not only to find drugs and explosives, but to detect blood, human remains, passports and mobile phone Sim cards.
Sgt Roderick said: "We will train dogs for whatever the demand is. If we're given access to those items, we can train them to find it.
"Really, we're only limited by our imagination and what the demand is from our colleagues and from the communities.
"We haven't reached the capacity of what a dog's capable of yet, by any means, and even though we introduce new substances to them, it's not like they forget another one - they're not forgetting number one to remember number 13."
After the puppies left their mothers at about 10 weeks old, they were matched with foster carers who will look after them for 18 months.
Among them is Sgt Rob Elmer, who works at Llanishen Police Station, who took up the opportunity to foster five-month-old Blod after years of his children pestering for a dog.
He said: "I was expecting a sort of beast to come out of the kennels, especially when you arrive and you hear all of the bigger dogs barking.
"I was expecting some prehistoric animal to come towards me, only to be greeted by a little black ball of fluff."
During her time with the family she will undergo basic training but the main purpose is to socialise her so she is ready to work once mature enough.
"She's just like what a pet dog would be really but obviously she's got a second role later on in her life, but for now we just treat her as part of the family like you would any other dog.
"I keep joking that I'm going to teach her lots of bad habits at the end so that they won't want her back, but yeah, I think it's going to be quite tough."
Once the 18 months is up, and if they are deemed suitable, the dogs will be matched with a handler to begin their initial 13-week training.
If they pass, they will continue to hone their skills over their lifetime, and will complete about 50 to 100 training hours a year until they retire.
"Bella, my springer, she's 10 years old. She's just about coming to the end, she's starting to slow up. The difficulty is, she still enjoys the job and when you take that away from them it does cause some to become unsettled after a long time of doing it," Sgt Roderick said.
First refusal for rehoming when they can no longer work goes to the handler to keep them as a pet.
"They've been living with you for years, they're a part of your family, part of your life and it's very difficult to give them back so 99 times out of 100 people will gladly keep them."
The scale of events Bella and her colleagues have covered is testament to their finely-tuned skills, which sees them able to locate nanogrammes of explosives.
Sgt Roderick says: "She's probably done over 500 searches, she's worked in Northern Ireland many times, we've worked on the Giro d'Italia cycle race, we've worked on London 2012 Olympics, Commonwealth Games in Glasgow in 2014, party political conferences all over the UK, plus just about the majority of every event that happens in south Wales.
"Our objective there is to make it as safe as possible an environment for the people attending the event, for the colleagues as the search officers and the cordon officers who are there, and those keeping an eye on public safety.
"But most importantly, it's about the people who attend the event so they can enjoy their event without any worries or concerns about their safety.
"Times have changed and we've got to keep pace with that, there isn't a weekend that goes by without an event of some sort so we're busier than we ever have been."
And the dogs are not only good at catching criminals and sniffing out harmful items, they are also good ambassadors for the force.
Sgt Roderick said: "Everybody wants to speak to you, everybody wants to know about the dogs.
"Everybody's got their own dogs and their own stories to tell and they appreciate what these dogs do for the safety of our communities.
"There's fantastic community engagement with these animals."