Swansea City directors' dismissal unfair, tribunal rules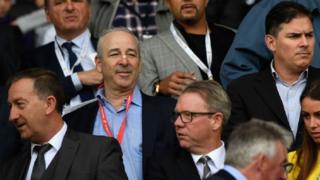 Two former directors of Swansea City were unfairly dismissed, an employment tribunal has heard.
Steve Penny and Don Keefe lost their place on the Swans' board when the Premier League club was taken over by US-led consortium in 2016.
A tribunal found their case of constructive unfair dismissal was "well founded".
However, claims made that age discrimination was a factor in their departures were dismissed.
Both Mr Penny and Mr Keefe had been directors of the club and members of the board. The two were involved in major decisions such as the move from the Vetch Field to the Liberty Stadium in 2005.
They also played a key role in helping the club in the wake of Tony Petty's controversial ownership.
However, following Jason Levien and Steve Kaplan's purchase of the club two years ago, it was decided that only shareholders would remain on the board.
Neither Mr Penny nor Mr Keefe held shares.
Following the takeover, both men later met with chairman Huw Jenkins and vice-chairman Leigh Dineen in June 2016.
The tribunal heard that at this meeting Mr Penny and Mr Keefe were told by the club they would have to resign as directors because of Premier League rules.
However, the hearing was told that no such regulation exists.
At another meeting the following month the pair discovered directors with less than a 5% stake in the club would have to resign from the board as a condition of the club's sale, they said.
Tribunal documents showed it was "not in dispute" the takeover could be at risk if Mr Penny and Mr Keefe did not quit.
The men alleged they considered that to be a "direct threat" - something club officials strongly denied.
Mr Penny later resigned on 9 August - with Mr Keefe following suit nine days later.
Both men argued their departures amounted to constructive dismissal - when an employers conduct forces someone to leave their job.
The tribunal ruled the club did not properly consult with the claimants about plans to remove them as directors - something which was described as "substantively unfair".
A tribunal statement said it "cannot be ignored" the claimants worked for many years "without remuneration".
The tribunal said the absence of "consultation" made the "dismissals unfair."
Following the decision, Swansea City said it recognised that some of its "procedural issues were not fully in line with employment practice".
It said it was pleased the tribunal had rejected other claims by Mr Penny and Mr Keefe - including allegations of age discrimination.
A spokesman added: "Mr Keefe and Mr Penny both served the club admirably over a lengthy period and despite the unfortunate circumstances surrounding their departure, their work will always be appreciated."
Mr Penny and Mr Keefe declined to comment.
A settlement will decided at a future hearing.