Pro14 rugby broadcasting deal confirmed with Premier Sports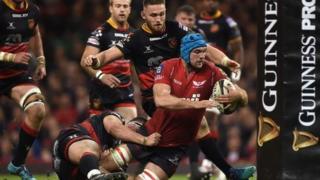 Pro14 Rugby have signed a deal with Premier Sports and FreeSports to broadcast every game for at least three years.
The partnership, from the 2018-19 season, means subscription and free-to-air games will be available to fans in the UK.
Confirming the deal, CEO of Pro14 Rugby Martin Anayi said it was a "terrific achievement".
The Welsh Rugby Union welcomed it as a "fresh offer for Welsh supporters".
There had been some concern among fans that a deal would mean subscription-only viewing, but Pro14 Rugby have confirmed that no fewer than 21 games - or one per round - will be shown live and free-to-air on FreeSports.
Scottish Rugby said they were "delighted" with the deal.
Negotiations over Welsh language rights are continuing, with the possibility of some games being broadcast on S4C.
A joint bid for broadcast rights by BBC Northern Ireland, BBC Scotland, BBC Wales, BBC Alba and S4C was rejected in March.
The BBC said at the time of the earlier announcement that it still hoped to continue to broadcast match highlights.
A Pro14 Rugby official confirmed that free-to-air rights were a "crucial element of our new broadcast package in the UK" and that highlights discussions were under way with the BBC.
The partnership said the overall broadcast agreement to show Pro14 Rugby matches in Britain, the Republic of Ireland, Italy and South Africa had doubled the revenue being returned to clubs.
"We believe this will help keep the best talent playing in their home countries while allowing the clubs to recruit high-quality international players from abroad," added the spokesman.