Former royal harpist Catrin Finch cancer 'shock'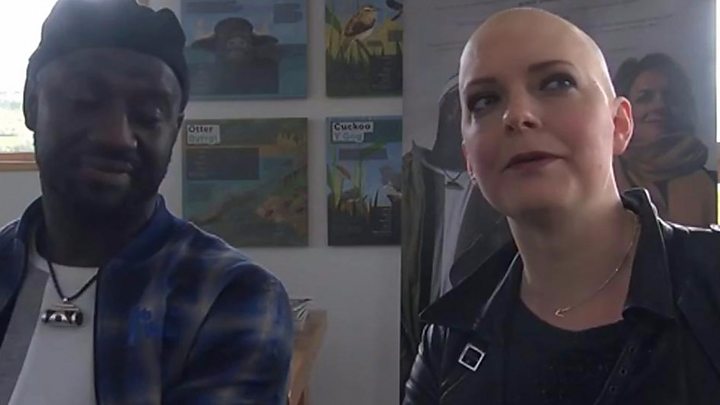 A renowned Welsh harpist has described how music and friendship are helping her battle breast cancer.
Catrin Finch, 37, was diagnosed with the disease last year and is being treated at Velindre Cancer Centre in Cardiff.
The former royal harpist told BBC Wales she was determined to complete a UK tour despite having chemotherapy.
Ms Finch, from Llanon, in Ceredigion, said: "We will be out the other end soon enough."
In 2000 she became the first person since 1873 to hold the post of royal harpist.
She revealed she had been diagnosed with stage-three breast cancer in February, but it had been caught early and was treatable.
Despite having to return to Cardiff for chemotherapy every Friday, Ms Finch said she was determined to complete a UK string of concerts with Seckou Keita, a kora player and drummer from Senegal.
"When you get a diagnosis like this it's a great shock, but for me the thing that was going to keep me going was my music, and performing, and inspiration, and people, and positivity and friendship," she said.
"All those things you put them together and you can get through anything.
"Chemotherapy is horrible, I'm not denying that. It's tiring, so the challenge for me is to keep a good balance between looking after myself and keeping going really.
"I have to listen to my body a lot more than I used to possibly.
"I'm determined to do this tour, to keep performing, and we will be out the other end soon enough."