Barry lawyer says Windrush families are living in fear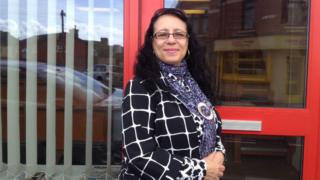 A lawyer representing people caught up in the Windrush row has said there are people in Wales "living in fear" of a knock on the door.
Hilary Brown's comments come after it emerged some migrants from Commonwealth Caribbean countries who settled in the UK from the late 1940s to the 1970s, and their relatives, had been declared illegal immigrants.
Cases have recently hit the headlines with the prime minister announcing action.
But Ms Brown, from Virgo Consultancy Services in Barry, Vale of Glamorgan, said she has been dealing with such cases for about 15 years.
"I know there are people in Wales who are affected," she said.
"In September last year, when the deportations were coming to light in the media, people were really panicking.
"I held an informal advice meeting for more than 30 people in Cardiff. I spoke to one 70-year-old man who has lived in Wales all his life who said he fears a knock on the door.
"These people are terrified of being identified and are too suspicious to come forward. They don't trust the system or that they won't be removed."
Some of the Windrush generation have been threatened with deportation, lost their jobs, or been refused access to medical treatment because of a lack of official paperwork, prompting Prime Minister Theresa May to announce a Home Office internal review.
Ms Brown explained that some of the people involved are choosing to live without documentation, hoping no one asks to see proof of their right to be here.
"Some of the 70-year-olds think 'if I can live out the rest of my life as I have been doing, that's good enough for me'.
"They simply do not trust the government to be able to deal with application or grant them British citizenship," she said.
"To them, calling a hotline or even coming to talk to someone like me is absolutely terrifying."
Ms Brown has become one of the UK's leading experts on the issue, representing 20-plus cases, the most high-profile being Leighton "Joe" Robinson, who was stranded in Jamaica for 21 months after going there on holiday.
"Some people think this is just about the Windrush generation - who are now [aged] around 70 - but often I am helping first and second generation children - people who were born here," she said.
"Typically, the children - now around 50 - have birth certificates, but this doesn't grant them a right to a British passport.
"These children went to school here, registered with doctors and dentists.
"They then got a national insurance number and worked.
"No issues were raised about their nationality or immigration status, so they went through their lives in total ignorance as to their lack of official status."
Ms Brown also said that grandchildren of the original migrants have also been affected.
"Imagine having lived here all your life, trying to enrol in university and being told you can't unless you can prove you are a descendent of the Windrush generation," she said.
"That is what is happening.
"I have spoken to 18-year-olds who are being asked to provide a copy of their grandparent's birth certificate from Jamaica or told they can't go to university. But often these don't exist."
Home Secretary Sajid Javid has said the UK government's review aimed to understand how members of the Windrush generation "came to be entangled in measures designed for illegal immigrants".