Q&A: What are the Tawel Fan inquiries about?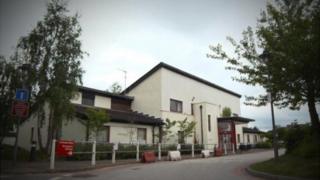 It was called a "catalogue of shocking and unacceptable failures" in the care of some of the most vulnerable patients. But now a follow-up investigation has found no institutional abuse. So what have the Tawel Fan inquiries been about?
What is Tawel Fan?
It was a 17-bed ward for elderly dementia patients - 'Tawel Fan' is Welsh for a peaceful place. It was one of four wards at the Ablett psychiatric unit in the grounds of Glan Clwyd Hospital, four miles from Rhyl, in Denbighshire, which opened in 1995. But it was suddenly closed, just before Christmas in 2013.
What happened?
The health board in charge - Betsi Cadwaldr - said there were "deeply distressing" allegations about patient care. The subsequent independent investigation by senior NHS figure Donna Ockenden was one of the most damning ever published into care standards in Wales. She said what happened there amounted to "institutional abuse". But an investigation now says this was based on evidence that was incomplete, misinterpreted, taken out of context and based on misleading information. It says there was no evidence of abuse or neglect.
What did the first investigation find?
It described accounts of the most vulnerable patients - including elderly patients with dementia - left to lie naked on the floor.
Other patients, it was claimed, were left lying in urine soaked sheets or were found wandering the ward unsupervised.
One family described conditions as like visiting a "zoo" with "animals that have been captured for a long time" left to walk around.
Others described staff not seeming to care about what was going on, or indeed trying to cover-up some of their actions - including using furniture to restrain patients.
Were the police involved?
North Wales Police were brought in to investigate 10 months after the allegations first emerged and looked at 17 patients. They found no evidence of avoidable deaths, mistreatment or neglect. The Crown Prosecution Service eventually decided not to prosecute. However, eight staff were initially suspended and four moved to other duties.
So why have we had a second investigation?
The Ockenden inquiry interviewed 18 family and friend witnesses involving nine patients; also 40 staff members. The health board commissioned the Health and Care Advisory Service (Hascas) to undertake a comprehensive investigation into the detailed circumstances. This has been much wider and has involved the cases of 108 former Tawel Fan patients, going back to 2007.
What is Hascas?
It is a Hampshire-based charity and consultancy which specialises in health and social care. The Tawel Fan inquiry has been led by its chief executive Dr Androulla Johnstone - who also led the inquiry into Jimmy Savile's association with Stoke Mandeville Hospital.
What was this investigation's scope?
It has looked at half a million pages of documents, including the police investigation statements and evidence, the work by the Ockenden inquiry, complaint files and correspondence and the health board's initial internal investigation. It looked at thousands of pages of patient records.
Hascas has also looked at a mortality review, audits and other information held by the health board.
It also took evidence from relatives - separate reports were being provided for each patient - and former and current staff.
What effect has this had on the health board?
Shortly after the Tawel Fan investigation was published the Welsh Government placed BCUHB into special measures. It became the first and only health board in Wales to be subject to the highest level of Welsh Government supervision and intervention.
The outrage caused by Tawel Fan no doubt contributed to the decision, and one of the key actions has been for the health board to be ordered to significantly improve mental health services across north Wales.
However, the health board has been struggling for years to address deep-rooted problems - including GP out-of-hours and maternity services - and had lost public confidence. The Tawel Fan revelations may have proved to be the final straw.
It still faces a significant deficit, waiting list and recruitment issues - and improving mental health services remains a big challenge. It faces 15 recommendations from the latest report to implement.
What about the families?
They have waited a very long time and there has been undoubted frustration at what has been called a "complicated and time consuming process". Health watchdogs have also been "extremely disappointed" over the time it has been taking, since the investigation began in autumn 2015 and even before it was published, some families said they have no trust in the process.
But because of the sheer scale of the inquiry - the inspectors have spoken to 86 staff, families of 108 patients and looked at 9,400 documents - it was never going to be completed quickly.
Will this be the last word?
No. There is also a second report to come from Donna Ockenden, which has also been long delayed. It is looking at wider issues of leadership and governance, which could have contributed to the problems at Tawel Fan.
Did what happened at Tawel Fan have an impact on the wider NHS?
Around the same time as Tawel Fan, concerns also emerged about the care of elderly patients at two hospitals in south Wales run by the Abertawe Bro Morgannwg health board.
An independent report later criticised failings at Princess of Wales Hospital in Bridgend and at Neath Port Talbot Hospital
Later the Welsh Government ordered spot-checks to take place on mental health wards for elderly patients across Wales. They found no evidence of systemic poor care or neglect but did find significant room for improvement in some areas, including making sure patients have daily activities and staff can get effective training.
Due to a growing and ageing population and the fact more people are now living with dementia, the ability and capacity of the NHS, along with other social agencies' ability to care for elderly patients, is increasingly under the spotlight.
What will happen to Tawel Fan now?
The health board has already said it will never re-open and the building might even be demolished. A decision will also have to be taken on what happens to the staff, still suspended, which has been pending the findings of this latest report.
There are plans to improve the whole Ablett unit, which could see four new wards built with a total of 60 new beds.
Although the second investigation found no evidence of neglect and abuse at Tawel Fan, it found problems due to pressures on staff and more challenging and demanding psychiatric patients being sent there. It also pointed to wider issues at the health board and in how mental health services had been delivered.
What happens to patients now?
Patients who would have gone to Tawel Fan go to the Bryn Hesketh ward in Colwyn Bay. It has refurbished wards to make them more dementia-friendly, there is a greater focus on involving carers and families and lots of activities.
Meanwhile, new initiatives include the first dementia support worker in Wales has been embedded in an A&E unit at Glan Clwyd.
There are 15 recommendations in the Hascas report for BCUHB to address.
Sean Page, consultant nurse for dementia at the health board, said there had been a "significant change in culture" after a "sense of shame" across the organisation.
A new dementia strategy will be delivered across BCUHB which Mr Page said would involve all staff, not just those in mental health.
"There was a period for a lot of staff of intense reflection on their own practice but equally there has been a breath of air which has blown through this organisation," he said.