Timeline: How the Tawel Fan dementia ward scandal unfolded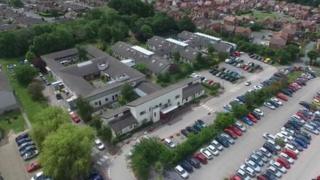 Here is a timeline of events surrounding the investigation around the treatment of elderly patients at the Tawel Fan mental health ward at Glan Clwyd Hospital, dating back more than four years.
2013:
December: Serious concerns raised by the family of a former Tawel Fan patient. The health board closed the ward and patients were transferred to alternative care.
2014:
February: Donna Ockenden - a senior NHS executive and midwifery expert - commissioned by the health board to investigate "serious allegations".
September: Health board receives Ockenden's report and passes it on to North Wales Police.
19 October: The Mail on Sunday makes claims about the treatment of elderly patients at Tawel Fan and secret filming of a staff handover meeting.
2015:
21 May: Police investigation ends and it is confirmed there will be no criminal prosecutions.
28 May: Betsi Cadwaladr University Health Board (BCUHB) publishes the Ockenden report and apologises for "inexcusable and unacceptable" treatment.
Eight members of nursing staff are suspended on full pay. A "significant" number also transferred to other roles while others, including managers, "stood down". The health board resumes its own disciplinary action.
29 May: A health inspection body says patients at a north Wales mental health unit were failed.
Healthcare Inspectorate Wales (HIW) said scrutiny at Tawel Fan "failed to detect and respond to the concerns at an early enough point in this case".
8 June: The health board is put into special measures by Welsh Government. It is the first health board in Wales to be subject to the highest level supervision and intervention. Health Secretary Mark Drakeford says it was because of "serious and outstanding concerns" about leadership.
BCUHB chief executive Trevor Purt steps aside and the Welsh Government brings in interim boss Simon Dean.
30 June: Families speak to BBC Wales' Week In Week Out, one woman says she was "extremely disappointed, angry that my husband and others were treated in such a deplorable way by people who call themselves nurses".
2017:
31 January: The health secretary establishes an independent oversight panel to provide assurance on the integrity of the Health and Social Care Advisory Service (Hascas) and Ockenden reviews.
10 May: New BCUHB chief executive Gary Doherty tells BBC Wales there is still much more to do to improve mental health services at Wales' largest health board.
9 November: Investigators confirm they are examining a total of 108 cases in relation to Tawel Fan
2018:
22 February: Inspectors highlight continuing patient safety concerns about Ablett Unit, of which Tawel Fan was a part, at Glan Clwyd hospital.
3 May: An independent report concludes there was no institutional abuse at the Tawel Fan unit, but accepts there were failings. It said the 2015 report was based on evidence that was incomplete, misinterpreted, taken out of context, based on misleading information and misunderstood. Here is a detailed look at the report's contents.