Older alcohol dependent drinkers urged to get help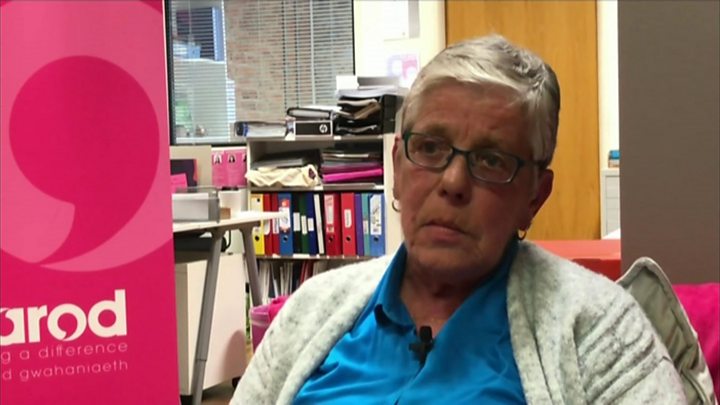 A recovering alcoholic has urged other dependent drinkers over the age of 40 to tackle the stigma and get help to avoid developing serious health issues.
Angie, 61, from Rhydyfelin, Rhondda Cynon Taff, was alcohol dependent for 10 years after having to give up work.
A year after seeking help she now works with others to rebuild their lives.
Her appeal comes as charity Barod Cymru has called for frontline staff at care homes and day centres to be trained to spot early signs of alcoholism.
A Welsh Local Government Association spokesman said the suggestion "warrants further discussion and consideration".
Last year, an advisory panel on substance misuse reported that nearly 20% of assessments with specialist services in 2015-16 involved those aged over 50.
Its report, Substance Misuse in an Ageing Population, added within this age group there were 3,515 assessments, which was up almost 30% over five years.
More than 80% of those cases were alcohol related.
The report also found over five years, alcohol-related hospital admissions increased by 35% for those 65 and over.
"I was alcohol dependent for quite some time brought on by quite a lot of drama in my life over the years," said former cleaner Angie, who is now a support user for the Drink Wise Age Well programme.
"I had trouble dealing with it. The stigma of actually admitting I had a drink problem scared the life out of me.
"Eventually I knew I had to because it was affecting my health in general and I knew I couldn't keep going that way."
Angie's problems started in earnest two years after having to retire at 48. She became isolated and lonely from less socialising, would drink every day and consume three and a half litres of whisky a week.
Her relationship with her family deteriorated and her memory was also affected.
"Drink Wise Age Well had an office in Pontypridd right by the bus station and I called in there on the spur of the moment," she said.
"I've had and [I'm] still having the help from them today.
"By talking to other people and listening to other people with the same problems I was going through I can try and help them.
"I have found my light at the end of the tunnel. Some people are still struggling and they really need to know that there's plenty of support out there when they know where to look for it."
'Massive impact'
Caroline Phipps, chief executive of Barod Cymru which operates across south Wales, believes interventions can be made earlier.
She said alcoholism can often be borne out of changing circumstances such as retirement or an empty home once children have moved out.
"It's really important that we train health professionals who work in care homes, older people centres, GP surgeries and adult social care in how to recognise substance misuse in older adults and how to refer to services," said Mrs Phipps, who is also the chairwoman of the advisory panel on substance misuse.
"Often we would pick up these older drinkers when they have been in hospitals."
She added: "If we can respond and intervene at an early stage it will have a massive impact in ensuring people aren't at the stage where they need detox or where they've got a physical health problem that has been caused by or exacerbated by their alcohol use."