Brexit: Commonwealth 'difficult' gap to fill for Welsh firms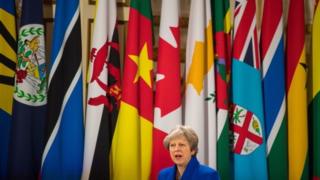 Trade with Commonwealth countries could be improved but it might be difficult to replace what could be lost from leaving the EU single market, according to a trade expert from Wales.
Prof Nicholas Perdikis from Aberystwyth University spoke as the heads of 53 Commonwealth states end their summit.
Theresa May wants increased trade and common standards in the Commonwealth, which represents 2.4bn people.
The UK government believes improving exports could be a Brexit benefit.
Prof Perdikis, an international business economist, told BBC Wales that strong diplomatic ties with the Commonwealth could lead to growth in the current low levels of trade.
Wales currently exports more than three times as much to France (£2.7bn) as it does to Canada, Australia, India, New Zealand, Singapore and South Africa combined (£868m).
The Commonwealth is not a trading block like the European Union and trade deals would most likely need to be negotiated between the UK and individual countries which may all have different priorities.
"If there were trade agreements, that could be increased but a lot depends on what the basis of those agreements will be," said Prof Perdikis.
"I think it's going to be a little difficult to try to promote trade to replace what might be lost, or potentially might be lost, by removing our entry into the EU and in particular it's single market," he added.
Net World Sports started nearly 10 years ago in Wrexham and now employs 100 people selling sports equipment like football goals, rugby posts and tennis nets.
The United States is the biggest market, with Commonwealth companies like Australia and Canada also important.
"We like the barrier of least resistance so we've always tackled the countries who speak English first," said Alex Loven, managing director.
"Commonwealth trade is hugely important, approximately 30% of our revenue, so we wouldn't want to lose that and only want to grow it.
"Australia is a long way away geographically but culturally and as consumer they're very similar - selling sports products there couldn't be a better target market."
Some other stories you might like:
The Commonwealth: Seven things you may not know
Can the Commonwealth be good for post-Brexit Britain?
The Queen wants Charles to lead the Commonwealth
Other economists who supported leaving the EU have argued that if the UK abolished tariffs and other trade barriers, this would boost the economy post-Brexit.
This is been dismissed as "economic suicide" by others.
Most economists say that this ignores decades of experience of international trade which shows that countries tend to deal more with nearby neighbours.