Welsh Proms loses £30,000 Welsh Government funding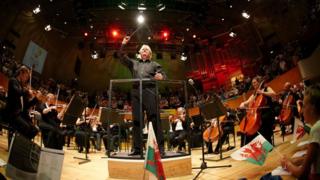 The founder of the Welsh Proms says he has been "hurt" by the Welsh Government's decision to end its support for the event.
Conductor Owain Arwel Hughes, who will stage the 33rd edition of the music festival in Cardiff this year, said he had been refused further funding from the government's major events unit.
Mr Hughes said he had applied for "the small amount of £30,000".
The Welsh Government said the event had failed to meet the funding criteria.
Mr Hughes said the funding situation would not have an impact on this year's event, which will take place from 21-28 July.
Since 1986 the Welsh Proms has been held at St David's Hall in Cardiff, and is not connected to the BBC Proms.
In recent years the Welsh Proms has faced a struggle to survive, and its founder had to underwrite several performances himself.
In 2015 and 2016 the Welsh Proms were awarded £50,000 in government support, dropping to £30,000 in 2017.
Ahead of the announcement on Wednesday of the line-up for this year's event, Mr Hughes told BBC Wales he had followed the guidelines rigorously, including their advice "to specifically request the small amount of £30,000".
"It's not just the money, although that helps," he said. "What really hurts is the Welsh Government has no interest and respect for the Welsh Proms, nor its influence on Welsh music and education."
He said he was excited by this year's Welsh Proms content and that despite the lack of government support "the Welsh Proms will be a success and continue into the future".
'Inexplicable'
A Welsh Government spokesman said it wished the Welsh Proms "every success" but said the event's organisers were advised last year that funding would not be available this year because of reduced budgets.
"The event does not, in this application, meet all the criteria for our major events funding, principally whether it will attract visitors from outside Wales; raise Wales' international profile and reputation; or impact economically on Wales."
The decision was described as "very disappointing" and "inexplicable" by Bethan Sayed, chairwoman of the assembly's culture, Welsh language and communications committee
"The Welsh Government have said that they advised the organisers last year that funding would not be available due to reduced budgets," she said.
"But also stated that the event didn't meet the criteria, part of which is whether or not the event raised Wales' reputation or impacted economically.
"I fail to see how the Proms don't do this."
The Plaid Cymru AM added Wales will be the only part of the UK without "a prominent proms event acting as a showcase for classical music" and said the country is "reaching crisis point" in terms of music education in Wales.