Public Health Wales 'open and honest' on sexual health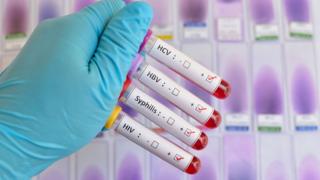 Sexual health services in Wales are "inconsistent", a new report has said.
A Public Health Wales study says more services at primary care level - such as GPs - should be provided.
It also says more people getting tested for sexual transmitted infections (STIs) is putting extra pressure on sexual health clinics.
Sexual health campaigners The Terrence Higgins Trust welcomed the report - calling it "open and honest".
Sarah Fuhrmann, the charity's director in Wales, said: "Many people are still not aware or do not have ready access to the information and services they need to protect their sexual health.
"The inequalities in access to sexual health services across the country cannot be ignored any longer."
Public Health Wales' 16 page report - entitled A Review of Sexual Health 2017/2018 - said clinics made a "significant contribution" in the fight against STIs such as chlamydia and gonorrhoea.
It also said significant work had been taken to reduce teenage pregnancies.
However, it cited figures released last year showing that the number of people attending sexual health clinics increased from 86,000 in 2011 to 176,000 in 2016.
It also highlighted a lack of services in rural areas as well saying that a new law, so women can take abortion medication at home, should be considered by ministers.
---
Findings from the report include:
Health boards need to be better at delivering services to vulnerable groups
IT systems are outdated
Services - such as 'condom card' schemes - remain vulnerable to financial pressures
Abortion services in Wales "inequitable" - potentially leading to late abortions
Lack of sexual health services for people in rural areas as well as in prisons
---
Public Health Wales consultant Dr Giri Shankar described the Welsh Government commissioned report as "much needed".
He said: "While huge progress has been made in addressing teenage pregnancies, much work remains to be done on accessibility to services, risky behaviours and moving care closer to patients."
Health Secretary Vaughan Gething said the report's recommendations would be implemented over a two-year-period.
He added: "We wanted an honest picture of services and now we have one to inform improvements."