Artist's sheep's eye view of the Cambrian Mountains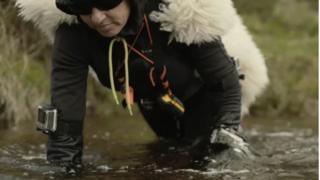 The Welsh might be known for their affinity with sheep - yet few perhaps would take this affection as far as Miranda Whall.
The artist spent much of last summer high up in the wild Cambrian mountains of Ceredigion, clad in a fluffy white fleece and crawling on all fours, filming as she went via 14 cameras attached to her body.
It was no mean feat; the terrain was boggy and stony, and she often had to crawl through rocky streams and barbed wire fences.
But the resultant work - a short documentary, plus video and audio installation - was, she feels, worth it, to draw attention to a landscape she claims needs great understanding and support.
Explaining why she did it, Miranda, 48, from Aberystwyth, said: "Initially, I didn't plan to try to look like a sheep.
"I just wanted to draw people's attention to the mountains and give people a different perspective by viewing it through multiple cameras.
"But when I got up there, I decided to wear a fleece to make it more accessible and funny."
It was an idea that came to Miranda in 2015 after reading a book called The Living Mountain by Nan Shepherd, which explores life in the Scottish Cairngorms.
She said: "Nan Shepherd wrote about immersing herself in the mountains and opening up her imagination to rethink how we look at them.
"I wanted to challenge the assumptions and misconceptions about sheep and the Welsh uplands, both of which are central to Wales' heritage and identity.
"The cliche is that the uplands are simply sheep grazing hills, but this landscape is far more important. Much of the area is peat, and is vital for storing billions of tons of carbon and absorbing carbon emissions.
"It also provides much of the UK with its drinking water and plays a crucial role in managing water flow to prevent flooding in lower regions, so it's absolutely essential that this landscape is understood and managed properly."
The unusual quest saw Miranda make eight trips to the Cambrians, crawling five and a half miles (9km) across peaty moorlands, beginning high up at Pen y Garn.
She then moved down through the purple Molinia grasslands and through the managed farmlands of Cwmystwyth - home to the Pwllpeiran Upland Research Centre, which is working to develop a sustainable future for the uplands and has supported Miranda in her project.
Speaking of her adventure, Miranda said: "It was physically tough. My knees were fine because I wore good quality skateboard pads, but my wrists and fingers hurt a lot on one of the crawls, especially when I had to crawl down a very steep slope."
Despite this, she found being a sheep "immensely liberating".
She explained: "Because I was down there at the same height as the sheep, my ability to see the landscape was completely altered and limited. I was much more preoccupied with my immediate surroundings, rather than the whole, and I believe that takes away any romantic conditioned experience of landscape.
"When you are walking, you can just move through and miss stuff. But crawling encourages you to be more present. It's more primordial and I felt utter delight in abandoning my physical body to landscape."
Despite her fleecy disguise, however, Miranda found it tricky to bond with the flock.
She said: "During one trip, when the sheep first saw me, they started running over.
"But when I looked up, they bolted. A farmer let me into his sheep pen for 90 minutes too, but again they were very cautious and kept away. I had a camera in my mouth at that point, so the sheep dog was terrified."
Miranda admits that now the project is over, she actually misses crawling through nature.
"I do miss it," she said. "But I'm going to do another crawling project in Scotland this summer, only as a deer. Then I will go to the Pyrenees, although I can't decide whether to be a boar or a bear.
"These upland landscapes are so important, both locally and globally. I just want to continue to tell their stories."
Miranda's exhibition, Crossed Paths, runs from 21 April to 13 June in Oriel Davies, Newtown, Powys.