Welsh councils get 15 royal wedding street party bids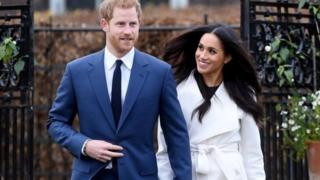 Fifteen applications for street parties have been made in Wales, as people plan to celebrate Prince Harry and Meghan Markle's wedding on 19 May.
But time is running out for road closure applications on the royal wedding day, as deadlines have already passed in some Welsh councils.
Almost half of applications were made in Rhondda Cynon Taf, where there are seven requests for road closures.
The majority of Welsh councils have not received any requests from residents.
By contrast, the Duke and Duchess of Cambridge's wedding brought over 200 road closure requests across Wales in 2011.
The remaining applications for royal wedding street parties are in Cardiff, the Vale of Glamorgan and Neath Port Talbot.
Chris Gittins, founder of community street party advice service The Street Party Site, believes the recent cold weather has put a "huge dampener" on early applications.
Mr Gittins thinks there will be "a surge of applications and people planning last minute" this week, but some councils may not be able to respond to this.
At least six weeks' notice is requested for road closures by local authorities in Caerphilly, Monmouthshire, Isle of Anglesey, Blaenau Gwent and Merthyr.
But other councils are taking a more lenient approach for the occasion, and may allow locals up to a week before the royal wedding to apply.
Claire Corbett, 39, from Pontypridd, is waiting for her application for a street party on her road, Tyfica Crescent, to be approved by Rhondda Cynon Taf council.
"We are going to dress up as if we are going to a wedding. So far we've got karaoke, food, music and bunting planned," she said.
Mrs Corbett is organising their royal wedding street party with eight other neighbours, which will be the first street party to be held on their road.
"Everyone is on board, and it's a great way to meet neighbours you've never met before," she added.
If a deadline has passed, Mr Gittins recommends residents to hold a street meet instead which doesn't involve the closure of a road.
"People can still congregate on a pavement, a garden area or even picnic in the park to celebrate together," Mr Gittins advised.
Applications for street parties on the day of the royal wedding are still being accepted by these local authorities:
Wrexham, 20 April
Rhondda Cynon Taf, 20 April
Gwynedd, 23 April
Flintshire, 27 April
Ceredigion, 27 April
Cardiff, 30 April
Conwy, 2 May
Bridgend, 3 May
Newport, 4 May
Neath Port Talbot, 4 May
Swansea, 11 May
The Vale of Glamorgan, lenient deadline, recommends six weeks notice
Torfaen, lenient deadline, applications must go through Highways.Transportation@torfaen.gov.uk