Dorothy Squires: The Llanelli singer who married Roger Moore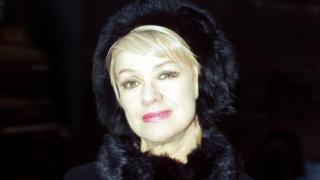 Dorothy Squires was the woman who married Roger Moore and made Elvis cry with her voice.
Yet 20 years after her death, few beyond her closest friends remember someone who was arguably one of Wales' biggest superstars.
Christened Edna May, she was born into a tin working family in Llanelli, Carmarthenshire, on 15 March 1915.
Her career saw her play the London Palladium and Carnegie Hall yet, owing to her demons, she died penniless in Llwynypia Hospital, Rhondda Cynon Taff on 14 April 1998.
Actor and entertainer Johnny Tudor first met Squires when he was three, and wrote her biography My Heart is Bleeding.
"My father, Bert Cecil, was a pianist, and he befriended Dorothy when, aged 15, she had gone to London armed with nothing more than hope and a train ticket.
"For her first few years in London she was broke, and she lived in our house as my big sister, but she never forgot where she'd come from."
Squires was paired with bandleader Billy Reid, with whom she soon struck up a personal relationship.
The partnership fuelled a transatlantic success story which lasted for 16 years, spanning World War Two and becoming a favourite on such popular BBC radio series as Music Hall and Variety Fanfare.
The couple lived to the full, with a mansion in Kent and an apartment in Beverly Hills, but the dream was shattered when Reid went back to his estranged wife.
Tudor believes their separation in 1951 was a crossroads in Squires's life.
"Billy Reid retained the Astoria Theatre in Llanelli, which they had jointly owned, while Dorothy kept their home, St. Mary's Mount in Bexley, Kent," he said.
"If the judge had ruled the other way around, who knows if she'd have been happier; though she probably wouldn't have been so famous."
As it turned out, Squires transformed her Kent mansion into "the" 1950s party venue, where she met aspiring actor and then-knitwear model Roger Moore; 12 years her junior.
She placed her career on hold for most of the decade in order to promote his, and when they married in New York in July 1953 she was reputedly down to her last $8.
Her niece Emily Squires recalls how happy the couple were then, but that there were already signs of trouble.
"I remember when I was about eight, Dorothy surprised me at boarding school and took me and my friends back to their house to swim in their pool," she said.
"None of us had swimming costumes, so we swam in Dorothy's designer knickers while Roger strolled down to the village to buy us all ice cream.
"By the time I was 15, the surprise trips were to the nightclub, and I remember one night when they were asked to leave because of their behaviour towards each other."
In 1961, Moore left Squires for younger Italian model Luisa Mattioli, though Squires wouldn't grant him a divorce until 1968.
"She couldn't deal with it, she'd bounced back from Billy's rejection and found the love of her life with Roger, only for him to reject her in turn," Tudor explains.
"When she found out where he and Luisa Mattioli were living she went around there and smashed every window.
"Roger came out and said, 'Stop Dorothy, your hand's bleeding', to which Dorothy replied [minus the expletives]: 'It's my heart that's bleeding'. That's where I got the title for her biography."
Even though, freed from Moore's shadow, Squires's career enjoyed a renaissance in the late 60s and early 70s, an addiction to amphetamines and litigation cost her dearly.
Tudor recalls: "At the same time as she was selling out the Palladium and Elvis was requesting repeat performances in the States, her Bexley mansion burnt down, and she became embroiled in the first of a series of law suits.
"The worst thing which ever happened to Dorothy was winning her libel case after the News of The World accused her of bribing BBC disc jockeys to play her records.
"As gambling addicts say winning on their first trip to the casino got them hooked, so it was with Dorothy.
"She'd sue everyone; she even sued Roger Moore for restoration of conjugal rights, and when the judge had to rule in her favour he summed up by saying he didn't know how he was going to enforce the verdict."
In 1986 she was made bankrupt, and a year later declared a vexatious litigant - forbidding her to bring any further cases before the courts.
When evicted from her new home in Bray on the banks of the Thames, Squires tenaciously broke back in, changed the locks and spent the loneliest Christmas of her life, barricaded in with only candles for light and warmth.
Dedicated fan Esme Cole offered her the rent-free use of her house in Trebanog, Rhondda, where she spent the final years of her life until she was diagnosed with cancer in 1998.
Niece Emily recalls that even on Squires's deathbed it was still Roger Moore who was on her mind.
"When Roger heard how ill she was he rang me, and asked me to hold her hand and tell her he was thinking of her.
"To the nurses she complained that 'that bloody Roger Moore is still hassling me!', but I knew deep down it meant a lot to her; it was the last smile I ever saw from Dorothy."