Soldier Mikko Vehvilainen cleared of terrorism offence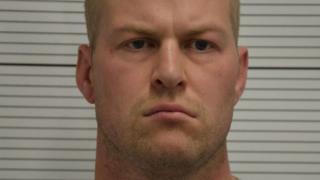 A soldier who was based in Powys has been cleared of a terrorism offence.
L/Cpl Mikko Vehvilainen, 33, of the Sennybridge Camp in Brecon, was found not guilty of possessing a document containing terrorist information.
The charge related to a manual by Norwegian mass murderer and terrorist Anders Breivik - who killed 77 people in two attacks in Norway in 2011.
Jurors at Birmingham Crown Court also acquitted Vehvilainen of two counts of stirring up racial hatred online.
Vehvilainen had earlier pleaded guilty to being in possession of a prohibited weapon - an illegal pepper spray - and will be sentenced on Friday.
Police found dozens of weapons - including knives, crossbows and a "war hammer" - at two properties in Powys occupied by Vehvilainen and guns which had licences.
A 23-year-old civilian male from Birmingham will also be sentenced after being convicted of two counts of possessing documents containing terrorist information.
The court heard that one of the documents was a "racist instructional book aimed at white extremists."
The man, who cannot be named for legal reasons, was also convicted of distributing a terrorist publication called "Ethnic Cleansing Operations".
But jurors found him not guilty of a separate count of possessing the Breivik manual.
Another solider - 25-year-old Pte Mark Barrett, who was based in Cyprus when arrested last year - was found not guilty of membership of a banned neo-Nazi group.
An Army spokesman said: "We expect the highest standards of behaviour from our personnel whether on or off duty.
"Anyone found to have fallen short of these standards will be dealt with administratively and can face a number of sanctions including dismissal."