Royal wedding 2018: Well wishes from Wales for Harry and Meghan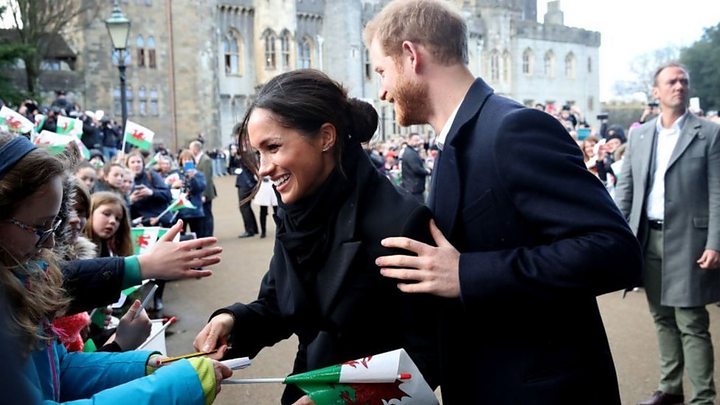 As millions of people tune in to watch Prince Harry and Meghan Markle tie the knot, some in Wales will be watching with particular interest.
Here, the people who have got to know the prince through his causes and others who have had their fortunes turned around by the so-called 'Meghan-effect' share their stories about their connection to the royal couple.
'Where's my invitation?'
Former Welsh sprint champion Iwan Thomas first met Prince Harry at a Kensington Palace barbecue in 2016 - it led to an invitation to become an ambassador for the prince's Invictus Games.
The pair chatted as they served up burgers to the crowd at a Heads Together charity event.
"It was a very surreal day," he said. "The first burger I tried to flip fell on the floor which got him into fits of laughter. He was 'quick put it back on', and I said 'I can't do that'.
"There I was flipping burgers, talking about depression and I was opening up more to him than some of my closest friends because he's that approachable."
After the announcement of Prince Harry's engagement to Meghan Markle, Iwan was thrilled to receive a letter from Buckingham Palace, convinced it was an invite to the big day.
It was an invitation... but one for Prince Charles's 70th rather than Prince Harry's big day.
"This is a sore subject," he joked. "I've not had an invite to the wedding, I'll definitely be watching the telly, unless I get a call up."
RSVP sent
But one person who was not left disappointed by a lack of invitation to the big day was Veronica German, director of Cardiff-based charity Dolen Cymru which helps train teachers and health professionals in the African country of Lesotho.
"I wasn't expecting it," she said. "I found this envelope when I came to work and thought 'ooh, this is a bit thick', and there it was - an invitation."
Prince Harry, who visited Lesotho during his gap year in 2004, is now patron of Dolen Cymru and as part of his patronage, Ms German has met him several times.
"He's like you see him on the TV, he seems really natural and he is really natural. He's really easy to talk to, he's interested in the work that you do and there's no standing on ceremony," she said.
'Call me Harry'
Balkans veteran Gemma Morgan, who lives in Monmouthshire, first met Prince Harry in 2017 when she was singing in the Invictus Games choir, made up of wounded ex-service personnel.
"[He] turned up in his jeans and a polo shirt, he's just very personable," she said.
"You have to kind of remind yourself that he's royalty when you're speaking to him.
"He says 'call me Harry'. So first of all everyone said 'morning sir' or 'morning your royal highness' and he said 'no, no, no, call me Harry."
The second time she met the prince was when she joined him at the premiere of the film Dunkirk.
"Prince Harry was very keen that the Dunkirk movie should be used for a greater purpose, a call to action really for any veterans who might be struggling or members of the public with mental health struggles," she said.
"Prince Harry is an incredibly personable, real, genuine, committed young man and an inspiration to many and I wish him and Meghan all the very best."
'I'm a Meghan look-a-like and making the most of it'
Emma Kaler, 19, from Rhiwbina in Cardiff had no idea who Meghan Markle was when her friends kept telling her she looked liked the actress who played Rachel from Suits.
But when the couple's engagement was announced, Emma found herself entered into a competition for the best Meghan Markle look-a-like.
"My boyfriend's nan entered me as a joke, I ended up winning it," she said.
"It was really unexpected and spontaneous but I'm making the most of it for sure."
The prize was a year's contract with a look-a-like agency in London.
And as the real Meghan Markle walks down St George's Chapel aisle, Emma will also be walking down the aisle, the aisle of a major department store for some promotional work.
'Meghan wore our jeans, we got lucky'
The so-called 'Meghan-effect' has also had a big impact on the fortunes of a couple from west Wales.
It was just a regular day for David Hieatt until he received a phone call from a national newspaper asking him to confirm Prince Harry's new fiancee was wearing his company's jeans.
Mr Hieatt, who co-founded Hiut Denim in Cardigan with his wife Claire, said: "It was one of those moments, for any company, suddenly you're on a worldwide stage. The whole world suddenly knows that we make jeans and it's a defining moment.
"You have to accept you got lucky. You open the door and lady luck walks in. It's a nice moment, very cool."
They now have a three-month waiting list for their jeans and expect their business to grow 70 to 80% this year.
He has a lot of respect for the pair, and added: "They're an amazing young couple. Prince Harry had a difficult childhood, he lost his mum he and hasn't had it all easy. With him talking about mental health he's a breath of fresh air for the royal family."
'They're going to wow the world'
In 2011, Anne Daley, pitched her tent just metres from Westminster Abbey ahead of the Duke and Duchess of Cambridge's wedding and she is in Windsor to celebrate these royal nuptials.
In January she and her sister Judy met Prince Harry and Ms Markle when they visited Cardiff Castle and promptly invited her to join them on a Cardiff hen do.
Speaking before she and her King Charles spaniel Camilla headed to Windsor for the event, she said: "We expect a wonderful atmosphere, plenty of Welsh people, we might have a hen night with all the other people up there."
And she thinks the couple are "sensational" together, adding: "Well she is a movie star and he's royalty so they're going to wow the world."