National Botanic Garden of Wales visitors boom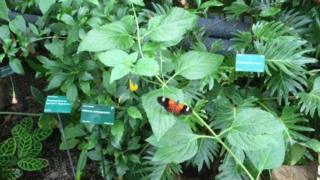 The formerly troubled National Botanic Garden of Wales has seen its highest number of visitors in 17 years.
Over 160,000 people visited the Carmarthenshire attraction in 2017-18 - a figure up 41% since 2015-16.
Garden director Huw Francis said most of the new visitors were families, adding "our focus on families is really paying off".
The attraction has seen a turnaround in recent years after almost closing due to financial issues back in 2004.
Last year, it also announced a 45% visitor increase over two years and a 23% rise in income.
This came despite funding cuts by the Welsh assembly and Carmarthenshire council, leading former director Dr Rosie Plummer to say she had been running the garden "on a shoestring."
The 568-acre garden opened in May 2000 and cost £43m to build.
It received a £22m grant from the National Lottery's Millennium Commission, but ran up £3m in debts in its first three years.
By St David's Day 2004, the attraction was hours from closing - but later that month Carmarthenshire council, the Millennium Commission and the Welsh assembly agreed a "rescue package" of £900,000.
Mr Francis said this latest visitor boom had coincided with "attractive developments" at the garden, including its tropical butterfly house and newly revamped children's playground.
"But there's still lots more to come," he added.
The attraction's new British Bird of Prey centre is due to open in June, and the ongoing regency restoration project should bring a "massive transformation" to the surrounding landscape by restoring it to its early 19th Century condition.
It is hoped that 180,000 people will visit the garden next year.