Brexit: Rhug Estate sheep farm puts new focus on venison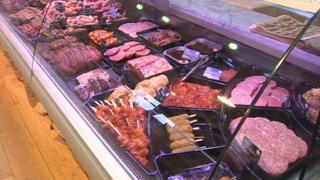 One of Wales's largest farms is to put a new focus on producing venison because of fears about the future of lamb exports after Brexit.
The Rhug Estate near Corwen in Denbighshire is one of the UK's biggest producers of organic lamb.
But owner Lord Newborough has said he was "deeply concerned" markets may soon be more difficult to access.
The UK government said it would "forge new and ambitious trade links around the world" as the UK leaves the EU.
Some other stories about farm diversification and Brexit:
BBC Countryfile: How farmers are diversifying
Venison boom: Demand outstrips supply
Farming bison on the Rhug Estate
Brexit farming fund 'income support for super rich'
A new herd of Japanese sika deer has been introduced to the farm, favoured by leading chefs for their meat.
The business - which employs 115 people and has recently been granted a royal warrant by the Prince of Wales - already supplies other producers' venison into several high-end restaurants and hotels in London, Hong Kong and Macau.
Now, increasing demand means they will produce their own venison on the farm.
Diversifying into venison, which is "a highly saleable product that top chefs are calling for", is one way of trying to ensure the farm has "a good future after Brexit", Lord Newborough told BBC Wales.
Farming unions have previously warned that a "no-deal Brexit" would mean high tariffs on lamb exports into the EU.
Lord Newborough believes the venison will find a home "in some of the best restaurants in the world without too much trouble".
As well as the distinct flavour, it is higher in vitamins and minerals such as omega 3 and significantly lower in fat than other meats.
Spread across 8,000 acres (3,237 hectares) at the Corwen site and another holding near Caernarfon, Gwynedd, lamb and sheep meat is currently the Rhug Estate's biggest commodity.
The business has in the region of 5,000 breeding ewes, producing approximately 7,500 lambs each year.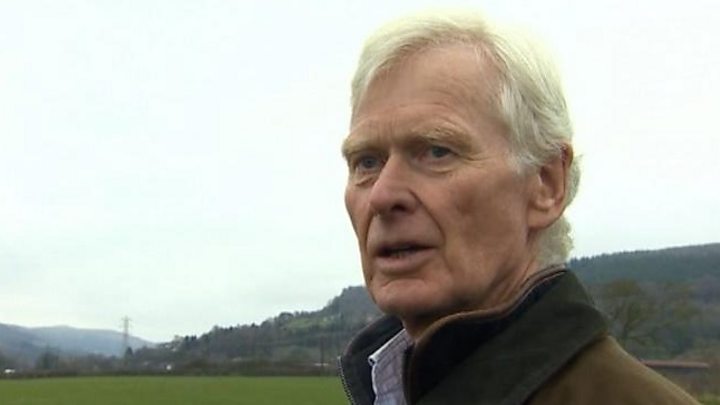 "A large percentage of the lambs we produce go to the continent but we don't know what the future will be exporting to the EU," Lord Newborough said.
"We're very accustomed to sending it across the channel where it's readily received, but getting access to new markets is going to be difficult.
"We are competing with the southern hemisphere where they produce a much bigger lamb and dominate markets like Singapore and the Middle East."
Gareth Jones, manager of the Rhug Estate, added that the farm needed to be looking at various alternatives to lamb and "thinking ahead of the game".
"The problem at the moment is that we don't know where we'll be going with Brexit and that's the biggest issue for the agricultural sector, not just in Wales but throughout the UK."
'Challenges'
The comments come as Wales' Rural Affairs Secretary Lesley Griffiths is on an official visit to New Zealand, one of the world's biggest exporters of sheep meat.
She has previously raised fears that a UK-New Zealand free trade deal could "destroy" the Welsh lamb industry.
Meat Promotion Wales said this week that the two nations could co-operate better to serve emerging markets, as they produce lamb in different seasons.
But Gwyn Howells, the industry group's chief executive, warned "the challenges that Brexit poses in terms of market access to Europe and, indeed, to the UK market", needed to be resolved first.
Official figures for 2014 showed 93% of Welsh lamb exports were destined for the EU.
A UK government spokesperson said: "We are committed to securing a good deal with the EU that works for the whole of the UK, including Welsh producers, through a bold and ambitious future economic partnership.
"As we leave the EU we will forge new and ambitious trade links around the world, reaching new customers for Welsh farmers and products, such as a recent agreement with Saudi Arabia worth £25m to UK lamb farmers.
"We will also maintain our high standards on animal welfare and food safety."