Cardiff chefs compete in Pizza World Championships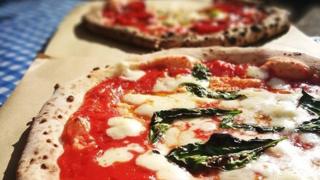 Two Welshmen are competing in the Pizza World Championship in Parma on Tuesday.
Ieuan Harry and Jez Phillips, owners of Cardiff pizza pop-up Ffwrnes, will battle teams from across the world in the Neopolitan category.
The challenge is to create the perfect Pizza Margherita - but other categories include pizza acrobatics, fastest pizza making and the largest dough stretch.
"Ours the most straightforward category," said Mr Phillips.
"The tough part is that everyone is using the same ingredients, and the judges will take marks off for anything."
The two 35-year-olds, who are childhood friends from Llanelli, launched Ffwrnes in 2014, and last November won best pizza at the first ever Welsh Italian Awards in Cardiff.
The have taken their signature three-wheeled pizza van on a tour of Europe to pick up ideas, and are now waiting their turn to cook at the Parma Convention Centre.
The centre has been kitted out with dozens of pizza ovens for the event.
"Pizza is what we do, and I have never seen anything this crazy," Mr Phillips said. "It's like a catwalk meets Ready Steady Cook. It's boiling in here."
When it is their turn to cook, they will be marked on technique, ingredients, processes and finally the appearance and taste of their pizza.
The international competition began in 1991, and winners receive a cash sum.
"We're the first Welsh team that we know of in the awards," said Mr Phillips.
Update 12 April 2018: The pizza chefs failed to impress the judges this year - dough!