Ofcom Wales head: Channels must adapt to streaming threat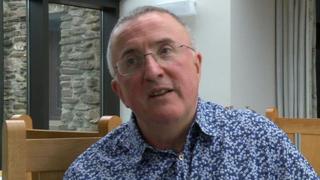 Broadcasters must adapt to the "threat" of online streaming services, the outgoing head of Ofcom Wales has said.
Rhodri Williams said the growth of on-demand services such as Netflix meant content aimed specifically at Welsh audiences could be reduced in future.
But he said the spread of so-called fake news gave traditional brands a chance "to demonstrate their value".
Mr Williams will leave the regulator at the end of March after leading it for the past 14 years.
He said industry changes meant public service broadcasters (PSBs) such as BBC and S4C would need to put greater resources into distributing their content on new platforms.
Unless budgets also rise, Mr Williams said money that would otherwise be spent on Wales-specific programming would need to be used to fund the changes.
He said: "Any attempt to continue to produce content that is aimed at a geographically-specific audience is under threat.
"These global players are not interested in producing content for small countries anywhere in the world, they want to produce content that is accessible anywhere that anyone will enjoy and see.
"And obviously it is going to be in English."
Ofcom's review of how Welsh people consumed television in 2017 found that while watching live programmes was still considered important, 76% of homes watched on-demand content and 25% of homes have a subscription to paid-for on-demand content.
Netflix now has over 100 million subscribers around the world, and is one of a number of companies meeting growing audience demand for streaming high-quality programming.
Mr Williams said the situation posed a long-term threat to the way PSBs are financed.
He said: "There is a threat to the funding model because not only do the public service broadcasters we have in Wales have to continue to make compelling content that people want to watch, but they have to make it available in a way that consumers want to watch.
"So they have to change the way they distribute their content, they have to spend more money on distribution than they did in the past, which is money that comes out of content creation.
"So that threat to the business model is a very real one."
The rise of fake news online also poses a challenge to traditional news providers, Mr Williams said.
People are "consuming content that isn't really news in some cases, it is simply something that either somebody thinks or something somebody has made up", he said.
But he believes there is also a chance for public service news providers to reclaim an audience.
He added: "I think there is an opportunity there for traditional sources of news, and I include the newspapers, radio, television and online services from trusted brands, to be able to demonstrate their value.
"People see a value in getting news from a brand that is trusted. Now, they may on occasion upset people and fail to keep to what some people might expect, but if you get your content from ITV, the BBC, The Times, The Sun, you do know something about where it has come from.
"And if it is fundamentally wrong or unfair, there are things you can do about it. And I think there is an opportunity there for the traditional producers of professional journalism to actually provide a service that people put a value to."