Ramsey Island: New survey finds 'Bronze Age' site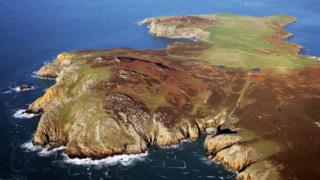 New archaeological sites on a small island off the coast of west Wales have been discovered.
The laser scan of Ramsey Island uncovered a "hidden" landscape thought to date back to the Bronze Age.
The survey, taken from the air, has also seen a detailed 3D model of the two mile-long beauty spot made for the first time.
Experts say the data could also be used to see if climate change affects the environment on the island.
Royal Commission archaeologist Dan Hunt described the findings as "incredible".
He added: "It has presented us with a stunning view of the island in enormous detail."
Ramsey Island is about a mile off the coast of St David's Head in Pembrokeshire.
Managed and owned by the RSPB charity, the island has long been a place of scientific interest.
Previous surveys carried out during the mid-1990s recorded prehistoric cairns and field systems on the island's two summits.
However, the airborne laser survey has shed further light on the island's past.
It revealed sites such as Bronze Age round barrows, a prehistoric coastal promontory fort and the possible site of a lost chapel.
Officials say the discoveries are forcing archaeologists to change their interpretation of how humans would have interacted with Ramsey Island during the past 4,000-5,000 years.
The survey was commissioned as part of the new EU funded Ireland-Wales project called CHERISH (Climate Heritage and Environments of Reefs, Islands and Headlands), which looks at investigating climate change and coastal heritage.