Yosemite rock fall: Cardiff climber Andrew Foster's bravery honoured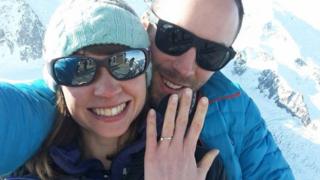 A climber from Cardiff who died while saving his wife during a rock fall in the United States has been given an award for his bravery.
Andrew Foster, 32, was killed when he and his wife Lucy were hit by falling rocks at El Capitan in Yosemite National Park in California.
Making the award, the Royal Humane Society described his actions as "a last act of love".
Mrs Foster, 28, survived the accident with serious injuries.
Andrew Chapman, the society's secretary, said "Andrew gave his life to save the woman he loved" and described his actions as a "a selfless act of incredible bravery".
"Nothing can ease the grief these families have suffered but they can be sure that none of our awards have been more deserved than this one," he added.
The Royal Humane Society was established in 1774 and rewards acts of bravery in saving lives.
The couple were devoted to the outdoors. Mr Foster had worked for Cardiff-based outdoor activity shop Up and Under before joining the international company Patagonia. They got engaged in the Alps in 2015.
Mr Foster's wife and family have set up the Cam and Bear Fund for Adventure to help young people enjoy outdoor pursuits.
His father, David, said: "He loved the outdoor life, had a passion for climbing and always wanted to help and encourage others in these pursuits."