Animal sanctuary regulations urgent, says RSPCA Cymru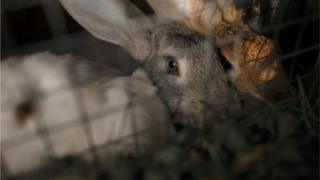 Animal sanctuaries in Wales need to be regulated "urgently" in order to tackle "commonplace" welfare problems, RSPCA Cymru has said.
The charity said anybody could set up a rescue centre, regardless of whether they had the right skills and resources.
The Welsh Government said it was developing a voluntary code of conduct for sanctuaries to sign up to.
But the RSPCA said it needed to go further and bring in regulations.
There are about 90 known animal sanctuaries and rescue centres in Wales - but the RSPCA said in reality there were likely to be many more.
It said they cared for a wide range of animals with complex needs and often expert care was needed to manage problems caused by animal illness and financial pressures.
There are also concerns about the conditions some animals were kept in and that they might not be cared for properly.
Claire Lawson, RSPCA Cymru assistant director of external relations, said many sanctuaries in Wales were doing a "great job in protecting animals".
"However, there are sadly some that are falling short - and the welfare of animals being compromised in these settings is, troublingly, commonplace," she said.
"Sadly, we are routinely receiving calls from concerned members of the public from across Wales - who so often act as our eyes and ears to help us uncover and investigate any alleged animal welfare issues within this hidden sector.
"We feel that much of the general public already believe establishments are both regulated and regularly inspected.
"Clearly, what we urgently need is regulation on sanctuaries which will ensure that there are measures in place to protect these animals across Wales."
The charity first called for regulation in December 2016 after the BBC Wales' Week In Week Out programme exposed poor conditions and overcrowding at an animal rescue centre in north Wales.
In response, the Welsh Government said it was working with animal charities to develop a voluntary code of practice for sanctuaries.
But RSPCA Cymru wants ministers to go further and follow the Scottish Government, which is currently consulting on introducing regulations for the registration or licensing of animal sanctuaries in Scotland.
Anne Ovenstone, who has has run the Tortoise Sanctuary in Sully, Vale of Glamorgan, for 25 years, said she felt regulation was needed.
"I think people think it's an easy thing to do to set up a sanctuary," she said.
"They take in a dog, some cats and a hamster and look after them really well. But then they get overwhelmed. That's when things start to slip and they don't ask for help.
"I don't think it's intentional but I don't think they realise the expense of doing it.
"I'm signed up to a voluntary register with the RSPCA but I really and truly think the only way to protect the animals is to have proper regulations."
A Welsh Government spokesman said animal welfare was a "priority".
"In Wales, we pride ourselves on having excellent animal welfare standards and expect everyone to reflect this by being responsible owners," he added.
"We are working with Animal Welfare Network Wales to support their development of a voluntary code of practice for animal welfare establishments and sanctuaries."