Dance classes and art lessons 'should be on prescription'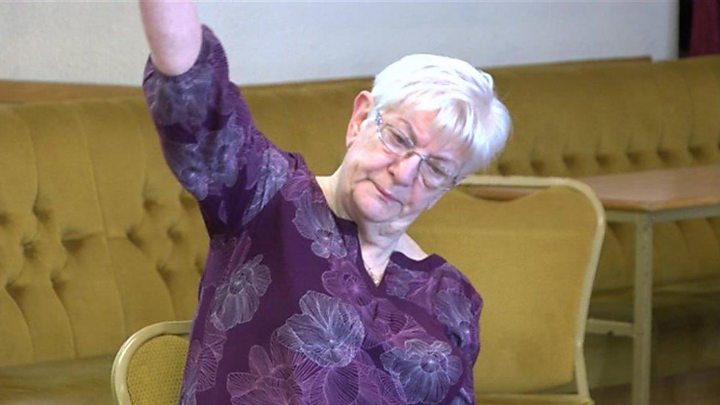 Dance classes and art lessons should be available on prescription and health boards should help fund them, according to the Arts Council of Wales.
A study of the health benefits to people who are unwell has recommended health board formalise its use.
It said more evidence was needed but the link between the arts and improved health were already well-known.
The Welsh Government said it recognised the role arts therapy could play and would consider the recommendations.
Some other interesting stories about art therapy:
Art therapy for Grenfell Tower victims
ACW chairman Phil George said funding could alleviate strain on the NHS in the long term.
"I understand the point about hard-pressed health budgets, which is why I make the point that there is serious evidence emerging that if we have these arts and health projects, we can see a reduction in spend," he said.
"We can see an impact in these projects that might reduce the return of older people to hospital, that can reduce the prescription of anti-depressants to people with mental health difficulties in communities, and that can improve health through social connection."
The report, Arts and Health in Wales - A Mapping study of current activity, highlights work in several fields including falls prevention, the treatment of dementia, Parkinson's, stroke recovery, mental health and anxiety and isolation.
The report sets out 11 proposals including:
making the arts a core component of "social prescribing", where patients are referred to a range of non-clinical services which are typically provided by voluntary and community sector organisations
employing full-time coordinators for arts and health at Wales' seven health boards
investing in greater research to encourage better links between research partners, artists and clinicians
Mr George said ACW would jointly fund the creation of full-time arts and health coordinators. Where the role exists at the moment, the staff are part-time or perform the role alongside other duties.
Prue Thimbleby is the arts coordinator for Abertawe Bro Morgannwg University Health Board. She has helped bring a version of the falls prevention programme "Dance to Health" to Swansea. The project was developed by Arts Enterprise with a Social Purpose (Aesop) and is being run by National Dance Company Wales.
"One of the health board's top priorities is helping to prevent falls because in our older population it causes so much ill-health," Ms Thimbleby said.
"Physiotherapists have all sorts of training and exercises that can help prevent people falling and gain strength and keep their balance, but... it's been shown people will go longer and more often to a dance group than an exercise group, so that's a big advantage."
A Welsh Government spokeswoman said: "We welcome this report and will consider its recommendations."
Sophie Howe, Future Generations Commissioner for Wales "welcomed" the initiative and gave her support.
"The link between the arts and our wellbeing is well-established and I look forward to working with the Arts Council on other projects to strengthen this important relationship," she said.
● Find a creative event or workshop near you, as part of the Get Creative Festival