South Wales Police bomb dogs' demand up with big events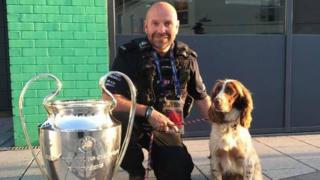 Demand for a Welsh police force's explosives dog team has doubled over the last two years.
The South Wales Police team attended 374 events in 2017 - up from 186 in 2015.
While the nature of the work has not changed, officers said the scale has increased dramatically.
It also includes the list of materials they must detect, as the team expands its skills to deal with the latest terrorist capabilities.
The rise in demand for their work comes as the UK terror threat level stands at "severe" - meaning an attack is highly likely - following attacks in London and Manchester.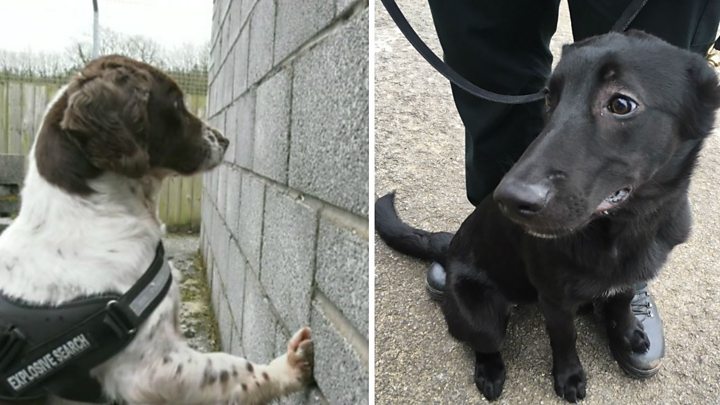 Sgt Ian Roderick, lead dog trainer for South Wales Police, said: "We are much more in demand now and as terrorist capabilities expand, so does our response to it.
"We are constantly evolving what we do. The Parsons Green terror attack showed that terrorists are constantly looking at means of getting past our capabilities. We've got to keep moving beyond that."
He added: "Policing a sporting event was about preventing disorder, but now it's about being vigilant about an attack.
"Before, it used to be about protecting a person [such as royalty attending an event], now it's about making an event safe for everyone."
The team's role involves searching venues ahead of a large events, assessing and managing the risk of any threat, as well as working at the event itself.
Insp Frances Williams, who leads the force's dog and mounted section, said: "I don't think the planning of the events themselves have changed, maybe the focus has changed in terms of the scale.
"We want to put on a show and make sure everyone who comes here feels safe, that we minimise the impact on the public and the communities who live and work around the event. That's very important.
"Over the last five or 10 years, some of the threats have changed slightly but our response is always the same. We've always had to ensure public safety and we continue to do that."
Keeping up with the latest advances in explosive materials is also key and the team works with the government, forensic scientists and crime scene investigators to get access to new substances so they can train the dogs to find them.
Sgt Roderick added: "We train them on a set of explosives at present, but as terrorism evolves then new substances may become more prevalent in their use, we'll have to get access to them via the government so we can train on them, and likewise with drugs.
"We haven't reached the capacity of what a dog's capable of yet by any means, and even though we introduce new substances to them, it's not like they forget another one - they're not forgetting number one to remember number 13."
Among the events the team will be help police this year is the Volvo Ocean Race in Cardiff Bay in May, followed by concerts by Beyonce and Jay-Z, the Rolling Stones and Ed Sheeran in June and Radio One's Biggest Weekend in Swansea.