Call for NHS probe after rise in deaths in Wales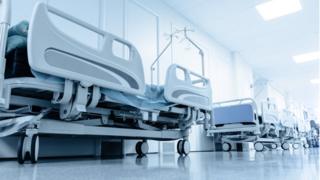 Researchers are calling for an "urgent investigation" into NHS mortality rates after 13% more people than expected died in the first seven weeks of 2018.
Figures from the Office of National Statistics found 5,841 people in Wales died, 675 more than the average over the past five years.
Researchers have blamed cancelled operations and pressures on the NHS, rather than flu or cold weather.
The Welsh Government said the figures represent a "complex picture".
In the second week of January, 904 people died in Wales - the highest number in a single week since 2015.
The 13.1% rise is higher in Wales than England, where 12.2% more people died than expected, but much less than Scotland which saw a 36.4% hike in fatalities.
In an editorial published in the British Medical Journal, researchers Lucinda Hiam and Danny Dorling called for an urgent investigation.
They said: "The weather was unusually mild during the initial weeks of this year—very cold weather did not arrive until late February."
They also added deaths caused by respiratory conditions such as flu or pneumonia were only marginally higher than last year.
However, they said "thousands of non-urgent operations were cancelled, a clear sign of a system struggling to cope," and accused health chiefs of "not taking the slowdown in improvements in mortality seriously".
A Welsh Government spokesman said: "We are aware of the increase in unexpected deaths in recent weeks compared to previous years.
"However these figures are provisional and represent a complex picture that we need to understand. However whilst these deaths may have been unexpected, sadly not all will have been avoidable.
"All deaths in our acute hospitals are subject to a mortality review. This process will enable the NHS to identify any concerns and opportunities for learning and improvement."