Memorial for Gordon Yeo and Dambuster bomber crew after 75 years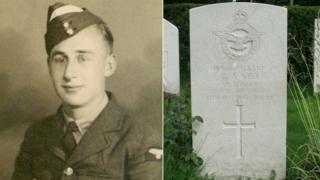 A memorial is due to be unveiled to an RAF gunner and his fellow crewmen who were shot down and died while taking part in a secret war-time raid.
Gordon Yeo, aged 21, from Barry, Vale of Glamorgan, was one of 133 airmen who participated in the Dambusters mission which saw "bouncing bombs" target dams in Germany on 16 May 1943.
Eight planes were lost and 53 men died.
A memorial to Sgt Yeo's bomber crew will be unveiled on 18 May in northern Holland, marking the 75th anniversary.
It has been made using money raised by family members and local people at Castricum aan Zee, near to the scene where their bomber, AJ-A, crashed into the sea on their journey home.
The bodies of the men were washed ashore over the following days and were buried at nearby Bergen cemetery.
But it was not until almost two years later that Sgt Yeo's family final received confirmation that he had died.
The British Red Cross letter said: "In the renewal of sorrow which this grievous confirmation of your son's death must bring to you, we think it may comfort you a little to know that we frequently hear of the care with which the graves of our airmen are tended by the Dutch people."
Sgt Yeo's mother never recovered from his death, according to relative Belinda Brown, 58, who shares the same great grandmother.
"She never talked about Gordon," said Ms Brown, who works as a teaching assistant at Cardiff's Lakeside Primary School.
"They clung to a slither of hope that he was still alive.
"In this day and age if you are going through trauma you can get help but then it was about getting on with it," she said.
Ms Brown said she was proud to be related to Sgt Yeo who volunteered for the RAF and was the front gunner in the bomber which had to fly dangerously low as part of its mission.
She said she was also proud to have been asked to help unveil the memorial at Castricum aan Zee by the Dutch people who commissioned it.
Local families continue to tend the men's graves.
"It's so thoughtful of them," said Ms Brown.
Marielle Plugge van Dalen and her father, Jan, set up the 617 Squadron Netherlands Aircrew Memorial Foundation more than a year ago, raising €5,000 (£4,300).
They have been tending the airmen's graves for many years after becoming interested in the Dambusters when they learned that AJ-A had crashed near their home.