Universities help Welsh Commonwealth Games athletes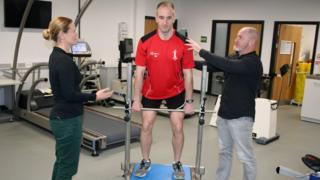 Universities across Wales have been helping athletes prepare for the 2018 Gold Coast Commonwealth Games.
The Wales Institute of Performance Science (WIPS) has been working with experts from Swansea, Bangor and Cardiff universities, among others, using science to maximise performance.
About 200 competitors are being supported by sports scientists, medics, nutritionists and psychologists.
Universities are also preparing for the 2022 Games.
Prof Liam Kilduff, head of the elite and professional sport research group at Swansea University, has been working with Welsh swimmers and Swim Wales staff.
"We utilise a wide variety of methods to monitor swimmers, from various sensors and underwater cameras, to the trained eye of a coach," he said.
"By using computer modelling of their actions, and comparing them to the very best in the world, we can isolate tiny details of starts, turns, or the angle a hand is entering the water."
Dr Camilla Knight, associate professor of sports science at the same university, said sport psychologists were important to competitors.
"The last thing any of us want is for a competitor to be standing on the blocks in Australia worrying about their technique and not focusing on their race," she added.
"The team have to ensure they're 100% comfortable with it long before then."