Llanelli and Aberystwyth drugs gang: 28 members jailed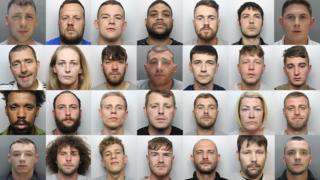 Twenty-eight members of a drugs gang involved in a multi-million pound ring have been jailed, police have confirmed.
The gang supplied a "staggering" amount of Class A drugs in Llanelli as well as Aberystwyth in Ceredigion.
Drugs deaths in both towns between 2014 and 2017 sparked Operation Ulysses to tackle to the drugs ring.
The gang was sentenced to between three and 16 years at Swansea Crown Court following guilty pleas.
Dyfed-Powys Police said the gang conspired to supply in excess of 20kg of heroin and cocaine, along with MDMA, cannabis and ketamine throughout Wales.
The force said the defendants were operating from within north Wales, south west Wales and also with another group based in Liverpool.
They were described as a sophisticated group dealing on an industrial scale and "executed their criminal enterprise with precision".
Judge Paul Thomas said it had been a "colossal and exceptional investigation".
In a statement released after the court case, Dyfed-Powys Police said Operation Ulysses was set up to "tackle the scourge of Class A drugs and to prevent further tragedies".
"Today marks the successful outcome after 28 defendants have been sentenced to more than 193 years in prison between them," the force said.
Det Sgt Rhys Jones, of the serious and organised crime team, said: "There is a human cost to the trade of supplying drugs, and we will work tirelessly to stop this.
"I hope these sentences send out a clear, unequivocal message to those involved in supplying and distributing drugs.
"There is nowhere to hide."
Gemma Vincent, senior prosecutor at CPS Wales, said: "Drugs are a blight on communities throughout Wales. They can have a devastating effect on individuals and their families.
"The CPS will continue to work with the police to tackle criminals that are involved in this destructive activity."
Sentences for all guilty pleas
Jonathan Thorne (Llanelli) - 16 years for two counts of conspiracy to supply drugs
Ryan Kenny (Penmaenmawr, Conwy) - 14 years for four counts of conspiracy to supply drugs
Christopher Inglesby (Colwyn Bay) - 13 years for three counts of conspiracy to supply drugs
Frances Powell (Llanelli) - 12 years for one count of conspiracy to supply drugs
Joshua Water (Aberystwyth) - 10 years for three counts of conspiracy to supply drugs
Gerwyn Bailey (Llandudno Junction) - 8 years for four counts of conspiracy to supply drugs
Max Hampson (Dwygyfylchi, Conwy) - 8 years for four counts of conspiracy to supply drugs
Declan Williams (Colwyn Bay) - 8 years for two counts of conspiracy to supply drugs
Christopher Morris (Liverpool) - 8 years for one count of conspiracy to supply drugs
Robert Williams (Llanelli) - 7 years 5 months for two counts of conspiracy to supply drugs
Howard Jones (St Asaph, Denbighshire) - 6 years 8 months for three counts of conspiracy to supply drugs
Christopher Twist (Llandudno) - 6 years 8 months for three counts of conspiracy to supply drugs
Callum Pritchard (Aberystwyth) - 6 years for five counts of conspiracy to supply drugs
Matthew Baldock (Abergele, Conwy) - 6 years for two counts of conspiracy to supply drugs
Michael Lewis (Colwyn Bay) - 6 years for two counts of conspiracy to supply drugs
Natalie Wilson (Llanelli) - 5 years 8 months for two counts of conspiracy to supply drugs
Ryan Mercer (Llanelli) - 5 years 4 months for one count of conspiracy to supply drugs
Ashley Mercer (Llandudno Junction) - 5 years 4 months for four counts of conspiracy to supply drugs
Hardev Singh (Colwyn Bay) - 5 years for two counts of conspiracy to supply drugs
Jody Moore (Colwyn Bay) - 4 years 8 months for three counts of conspiracy to supply drugs
Jarod Jones (Llandudno Junction) - 4 years 6 months for two counts of conspiracy to supply drugs
John Kenny (Penmaenmawr, Conwy) - 4 years 4 months for two counts of conspiracy to supply drugs
Seorse Bailey (Llandudno) - 4 years 4 months for two counts of conspiracy to supply drugs
Joseph George (Aberystwyth) - 4 years for two counts of conspiracy to supply drugs
Sam James (Aberystwyth) - 4 years for five counts of conspiracy to supply drugs
Leroy Numa (Aberystwyth) - 3 years 8 months for four counts of conspiracy to supply drugs
Liam Antwiss (Aberystwyth) - 3 years 8 months for two counts of conspiracy to supply drugs
James Wright (Liverpool) - 3 years 6 months for one count of conspiracy to supply drugs